The only way to choose the perfect cryptocurrency is to go back in time. But that doesn't mean you need to guess. It means you have to learn how to analyze.
How to become a successful crypto investor
On November 1, 2015, one Bitcoin was worth $325,$43. Today, one Bitcoin costs $16,880. Bitcoin was chosen as the best investment of the decade. If you had invested five years ago, you would be grateful now to yourself, for your insight and foresight.
BTC has outperformed all its competitors over the past decade, experiencing incredible growth. Cryptocurrencies in their early years had no special value, but over the years their value increased.
If we go back just five years and look at cryptocurrency prices on November 1, 2015, we will understand how much they have grown. Here's how the top 10 looked then: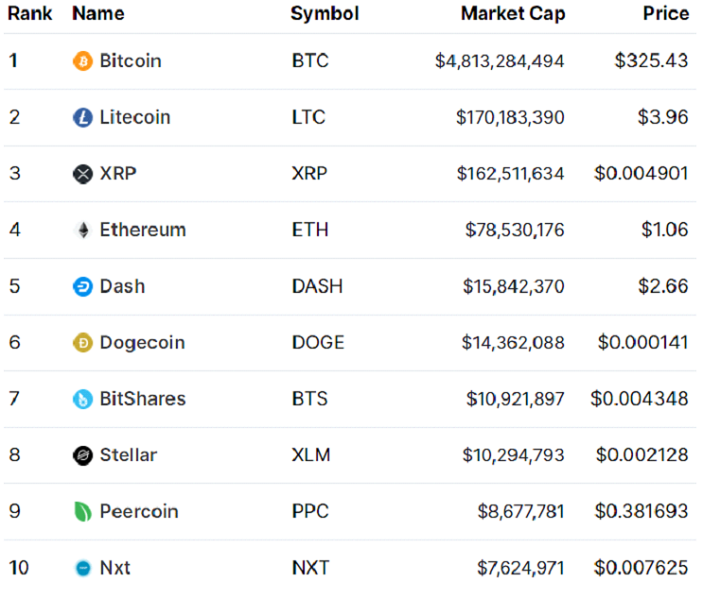 Top 10 crypto market as of November 1, 2015
The price of BTC was 325,43 $. XRP wasn't even close to a cent yet. Ethereum ranked 4th and cost a little more than a dollar.
Well, if we look at Coinmarketcap's top 10 today, things will be different. Bitcoin costs 16,880$. Ethereum in second place with a price of 510$, whereas, as mentioned above, in 2015 was worth a little more than a dollar. And XRP is now in third place with a price of 0,53$.
So, if you then decided to buy BTC, you'd buy it for $325. Now your coin will cost 16,880. Imagineif you had more coins!
Moreover, according to experts, prices will only rise as crypt becomes an integral part of the financial world.
If you were lucky enough to invest at that time in any of these cryptocurrencies, today your return on investment would be huge. You couldn't even come close to making that amount of money with any other investment, whether it's stocks, bonds, gold or whatsomething else. Crypto assets literally outperformed any asset.
How to buy crypto currency
The easiest way to buy cryptocurrency is to exchange it . Of course, cryptoexchanges and Binance, Bittrex,Coinbase,eToro and Kraken immediately come to mind. But it is best to use 2P2 exchanges such as LocalCoinSwap, BIT.TEAM, Cryptolocator, etc.
You just have to pick one of them, create an account, plug in your credit or debit card, and make your first investment.
What crypto to buy
Well, it depends on your preferences. There is no specific crypto you need to buy. Although BTC is the most respected cryptocurrency, and people tend to buy it more, other crypto-assets are also good options.
According to Coinmarketcap, there are now 7575 cryptocurrencies. With the exception of BTC, Ethereum, Cardano, Litecoin and Chainlink are rapidly developing.
Other altcoins can also have huge returns on investment. Some new coins show 300-400% growthin 24 hours. Cryptocurrencies are speculative, so you can never know exactly which one will work best.
Safest way to buy cryptocurrency
There are different ways to safely buy cryptos. You can use a crypto ATM (if there is one in your area), and buy cryptocurrency using a debit/credit card. However, the most popular and secure way to buy cryptocurrency is to use a reliable 2P2 cryptocurrency exchange. BIT.TEAM is a prestigious companythat prides itself on its safety.
Where to store my crypto?
After purchasing your preferred cryptocurrency, you should store it in a cryptocurrency wallet.
There are hot wallets and cold ones. Hot wallets are websites / platforms, andobviously they're connected to the internet, and cold wallets are hardware, usually in USB form. They are not connected to the internet, which actually makes them safer as they cannot be hacked since they are not online.
Is investing in cryptocurrency a good idea?
Well, it's a stupid question if you're here, and read those lines. At the moment cryptocurrencies are going through a great period. Banks and financial companies are jumping into the crypto industry,offering servicesrelated to crypto-assets one by one. Take PayPal for example.
Cryptocurrency experts predict price rises, although throughout its short history of existence cryptocurrencies have been unstable, so it is difficult predictwhat their price will be in the future.
Overall , they are considered risky but known high ROI . That's what beckons all categories of investors, from the mere trader, to the institutional financial company from Wall Street.
Bitcoin is the best cryptocurrency to invest?
Bitcoin is the most respected cryptocurrency. It was the first asset released in 2009, and it became a leader among the rest. It is often synonymous with cryptocurrencies.
There is a tendency to invest more inBTC than in another crypto, because of its reputation. He's a leader since its launch, and one way or another other crypto-assets are linked to him.
But his reputation gives him more recognition than his competitors around the world.
Gold rules of earning on crypto
When it comes to investing, there are a few rules you have to follow.
Buy cheap, sell expensive
It may sound corny, but " buy cheap, sell dearly" is a basic rule, when it comes to investing in cryptocurrency. It's simple and understandable.
Asa person who wants to invest in crypto, you need to finda time when crypto assets will have a low price, and buy them. Then, when the price rises, sell.
This rule is applied by many traders becausethe nature of cryptocurrencies is unstable, which means that their price experiences frequent ups and falling.
Avoid emotions
So-called "emotions"only hitters you as an investor. If you let emotions govern you when investing, chances are you madethe wrong decision, and subconsciously understand it.
You may have heard of the term FUD, which in crypto-slang means " fear, insecurities and doubt." These are the three most common feelings you can experience as a crypto investor.
Of course, as people, we are excited, nervous, desperate, but when investing in cryptocurrency we should try to get rid of emotions. So no need to rush. Analyze the market and make rational decisions. Don't let emotions make decisions for you.
How to avoid fear of missing an opportunity (FOMO)
So-called FOMO – fearof missing something generally meansthat still people.
In cryptocurrencies, FOMO comes into play when the price rises andthe impression is that everyone is selling, so you might think that you should also sell because you are afraid you will lose the opportunity.
FOMO also appearswhen you seethat another cryptocurrency that you have not invested in, is growing. So you need to sell your cryptocurrency to buy more.
So, try to avoid FOMO and stick to your coin.
Stick to your strategy
You, as an investor in cryptocurrency, have to stick to your plan. There are different movements in the market, but you can't change your strategy every timethe market changes.
So you need to create a strategy and stick to it. Define your style of investing: whether you want to invest in the long or short term. Also, set stop loss so you can sell automatically whenthe price reaches your target. Placing stop losses will help you stick to your plan as it will prevent actions based on your emotions.
Investing for a longer term
When Bitcoin was launched in 2009, few believed in the success of the crypt. Yet they grew steadily,creating a sensational story with the ups and downs of value. Thosewho invested in the early days of thecrypto market no doubt now have no regrets as they only benefited from their investment.
Crypto is gaining increasing reputation and respect, especially recently when many banks and financial institutions launch related services.
Consequently, they are expected to only rise in price, so consider investing in the long term . This is still known as HODling, which in slang means "buy and hold". Chancesare you will be grateful for such a strategy in the future.
Diversification
Since investing in cryptocurrency involves some risk, it is best to invest in multiple cryptocurrencies. So youare less at risk of losing any asset. Let your crypto portfolio be diverse due to investments in different coins.
Since crypto assets are correlated, they work similarly to each other, however some still perform betterthan others. Especially some altcoinsthat don't have much reputation, but sometimes they know how to surprisevery much .
So invest in more than one coin, and let your portfolio be diversified.
Invest onlywhat you can afford to lose.
We have mentioned volatility several times, and again we haveto say that just as it offers many opportunities to obtain profit, volatility can also be a risk factor for you as an investor.
Cryptocurrencies involve risk, and you have to be careful not to invest everything you have. It's good to invest as much as you can afford to lose, so in the event of a crash you won't worry too much about assets, which will eventually be lost.
Where can I learn to invest in cryptocurrency?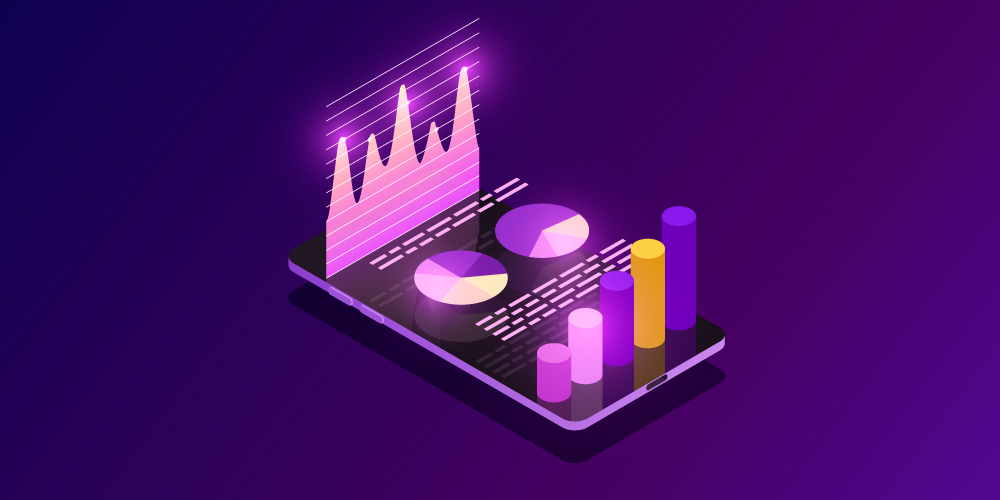 Investing in cryptocurrencies can be learned here, from us. We bring to your attention guidesthat teach the latest methods of investing and trading cryptocurrencies.
At BIT.TEAM we will not only teach you how to invest in cryptocurrencies, but also can teach you how to crypto trading, coin stacking algorithm PoS and more. If you want to start your own trading adventures, join our huge crypto community.