How high will the price of Ethereum Classic go in 2021? What will happen to its pricing policy? Since cryptocurrencies are decentralized, crypto investors have always wondered: what drives the price of Ethereum ETC?
Analytical analysis of the future price movement of Ethereum Classic
When we talk about cryptocurrencies we need to take into account that they do not have a very long history, because they are relatively new. Many people, including investors, find it difficult to understand how they work. They also have a hard time understanding what drives their price.
Bitcoin was the first cryptocurrency released in 2009. Satoshi Nakamoto in an official document announced to the world that he had launched his project called bitcoin. Of course, few people thought that the BTC, along with other cryptocurrencies, would become a serious competitor in the world of finance. In fact, cryptocurrencies can now change the whole way money works. If it doesn't happen now, it will most likely happen in the near future.
Since the release of Bitcoin, many other cryptocurrencies have been introduced, including Ethereum Classic, which was launched in 2016 when the hard fork occurred. So, Ethereum Classic (ETC) is one of the newest cryptocurrencies, since no more than four years have passed since its launch (since the hard fork).
But what really drives the price of Ethereum Classic?
The price of Ethereum Classic is most affected by two main factors:
We have analyzed these two factors and will explain this in detail below.
Why Ethereum Classic
Why should investors consider investing in Ethereum Classic? What makes this cryptocurrency so unique?
The decentralized autonomous organization (DAO) was hacked in 2016, and then it was decided to create a hard fork that will return the $ 50 million that the hackers left with. This hard fork is known as Ethereum, which is today the second largest cryptocurrency. The original blockchain that remained is known as Ethereum Classic.
In fact, Ethereum Classic uses the original Ethereum blockchain. Ethereum Classic uses smart contracts and its own cryptocurrency, known as ETC. Ethereum gets most of the attention, but Ethereum Classic should also not be overlooked because it plays a similar role, having its own ecosystem of decentralized applications (dApps) and a blockchain registry.
Throughout the history of its existence, Ethereum Classic has had its ups and downs, showing that it is an unstable asset that can bring profit to investors. on january 14, 2018, the coin reached a record high of $ 44.34.
But compared to some other cryptocurrencies, such as chainlink or cardano, ethereum classic has not shown significant growth. Currently, the price of ETC is $ 6.06. Moreover, since the record high Ethereum Classic, as a rule, only declined, and could not approach the price of $ 44.34, reached in January 2018.
However, experts predict that the price of the coin may rise in the future. Thus, Ethereum Classic can be a good investment.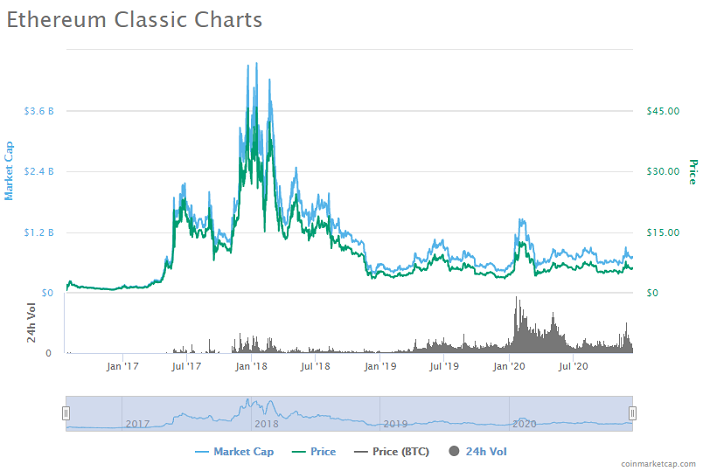 Dynamics of Ethereum Classic prices for all time. Source: Coinmarketcap
What drives the price of Ethereum Classic
Currently there are in circulation 116 313 299 ETC. The total volume of the offer is 116,313,299 ETC. The total market capitalization of Ethereum Classic is $ 704,847,662.
The price of a coin can be influenced by various factors, but two factors will determine the price of a crypto asset in 2021.
Factor #1: the introduction of Ethereum Classic
Why didn't the coin work well? Well, most ICOs are built on the Ethereum network, so the vast majority of developers prefer to create applications using the Ethereum network, rather than Ethereum Classic. So, Ethereum Classic is poorly perceived by users and is under the shadow of Ethereum.
Moreover, there are many Defi projects worth more than $ 14 billion. 50 of these projects that Defipulse tracks are built on the Ethereum network. As shown in the table below, some of these popular platforms are Maker, WBTC, Yearn Finance, Aave, Compound, etc.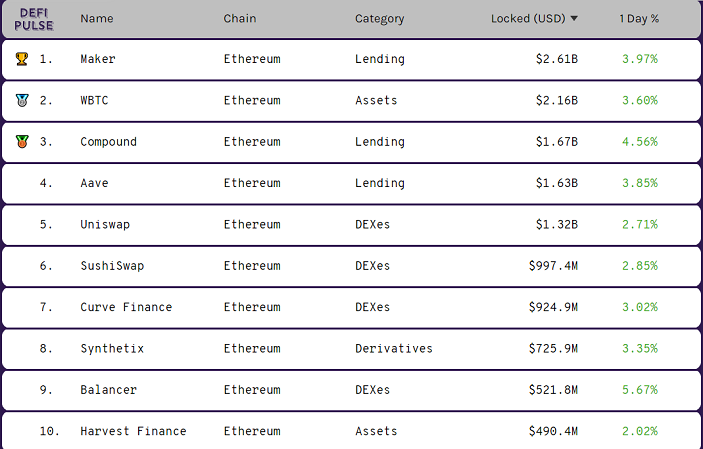 10 of the 50 platforms built on the Ethereum network.
Thus, since developers trust the Ethereum network more when creating their applications, Ethereum Classic remains in the shadows. Consequently, its price could not rise significantly, since there was no noticeable demand for etc.
Factor #2: Network attacks
The reputation of Ethereum Classic has also been damaged by the 51% attacks it has suffered during its existence. Essentially, a 51% attack means that a miner can control 51% or more of the hash power, thereby creating longer block chains and double costs.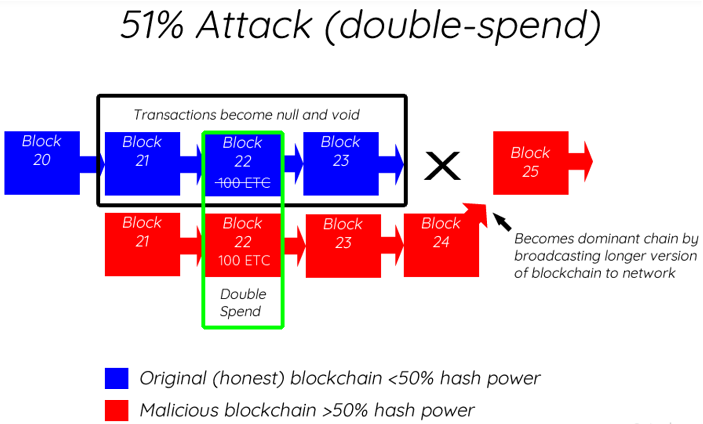 On January 5, 2019, Coinbase suspended trading of Ethereum Classic after noticing that ETC was being subjected to such an attack.
Later, in August 2020, the crypto asset survived three attacks within a month.
According to mining company Biftly, 7,000 blocks, or two-day mining, were reorganized during this attack.
These attacks have caused a threat to investors, and some cryptocurrency exchanges have responded. Even crypto exchange OKEx, for example, said that after these attacks, they would consider removing ETC from their trading list.
In addition, the FTX cryptocurrency derivatives exchange said it would "review its perpetual futures contracts ETC," as reported by Coindesk.
Following the attacks, ETC Cooperative, a foundation supporting the development of the network, tweeted that they are working with other crypts to test and evaluate recommended solutions.
On October 13, 2020, Coingeek reported that Ethereum Classic had started taking action and implementing 51% attack protection. According to the report, the network implemented a modified exponential subjective assessment (MESS) system to protect against 51% attacks.
Later, in November, the project launched a hard fork called "tanos", in order to expand the cooperation of miners and improve security.
Ethereum classic as an investment for 2021
Although the asset may not have had a good year, analysts are optimistic about the price of this coin, given the measures taken to improve security.
Trading Beasts has a "realistic" approach, predicting that the ETS will reach $ 7 by December 2021. Given that the price of ETC was $ 6 at the time of writing, this would not be a significant increase, albeit a positive one.
Digitalcoin has a more positive approach, predicting that the price of ETC will reach $ 11 in February 2021, recording an increase of 85.39%.
We can say that this is a realistic forecast. Given that 2020 was not the best year, we can say that 2021 will be more positive, according to forecasts.
Ethereum Classic Price After 2021
Trading Beasts are not so optimistic when it comes to long-term forecasts ETC. According to them, the price will remain at $ 7 even in 2023. But when we look at Digitalcoin's long-term outlook, it looks really optimistic.
Digitalcoin is projected to reach $14.17 in june 2023. In addition, according to their forecast, the coin could reach $ 32.81 in February 2026, an increase of 440.5%.
What is the future of Ethereum Classic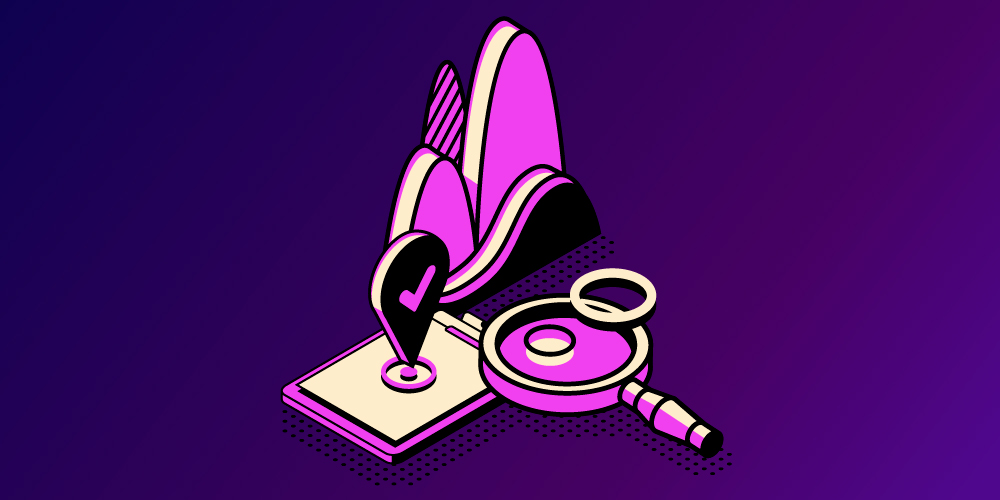 While the coin may have had attacks that slowed its growth process, it is expected to continue to serve as one of the key drivers for decentralized finance (Defi) in the future, as a decentralized platform for smart contracts. Also, given the optimistic forecasts given above, we can say that Ethereum Classic has a real future.
You may ask: what is the difference between Ethereum Classic and Ethereum?
Ethereum Classic is the original Ethereum that existed before the fork. In 2016, a new fork was created due to hacking, which was called Ethereum, which we know today. When the split occurred, a battle between the two crypto assets began.
Both of them offer the same feature when it comes to creating smart contracts and decentralized applications (dApps). However, now Ethereum is much more popular than Ethereum Classic, and it is more supported by investors and institutions, since the second one does not have security.
Some of the Key Differences between Ethereum and Ethereum Classic:
The annual supply of Ether is 18 million coins, and the total supply is unlimited. On the other hand, Ethereum Classic has a total stock of 210 million etc.
At the time of writing, according to Coinmarketcap, the total market capitalization of Ether was $ 67,506,855,455, and it is considered the second cryptocurrency immediately after Bitcoin. At the same time, the total market capitalization of Ethereum Classic is $ 704,323,806, which is much lower than that of Ethereum.
Ethereum is much more popular than Ethereum Classic, and it has received a lot of developer support. It is the leading blockchain for icos and holds 80% of the market share, while its fork is not so preferred for icos. Investors are more supportive of Ethereum as it has better functionality. Thus, it is clear to which asset investors trust more.
Is it worth investing in Ethereum Classic?
The project still has supporters who have remained loyal to the old blockchain. They think it's a better choice than the new one. Although the asset did not show significant growth in 2020, everything may change in the future.
Cryptocurrencies may have experienced a sharp rise since Bitcoin's release in 2009, but they are still in the early stages of their development. Hence, supporters who have remained loyal to the old ethereum blockchain may be right: etc may experience growth in the near future.