What will happen to Ethereum in 2021? It was a little difficult for traditional investors to understand what is driving cryptocurrency prices and answer the question of where the price of ETH will go.
Analytical analysis of the future price movement of Ether
When we talk about traditional assets, such as stocks or bonds, we already know that their price is determined by economic factors, such as, for example, inflation or government regulation.
But when it comes to cryptocurrencies, things are a bit different. What drives their price? They are known to be volatile, which means that their price often rises and falls. But what makes this happen?
What really drives the price of a crypt like Ethereum? Why are investors increasingly investing in ETH? What makes it so unique?
Well, Ethereum is the second largest cryptocurrency after Bitcoin, and it is designed for decentralized applications, or so-called DApps. This blockchain has smart contracts, and it is the most used blockchain in the world.
It was created on July 30, 2015 by cryptocurrency researcher and programmer Vitalik Buterin.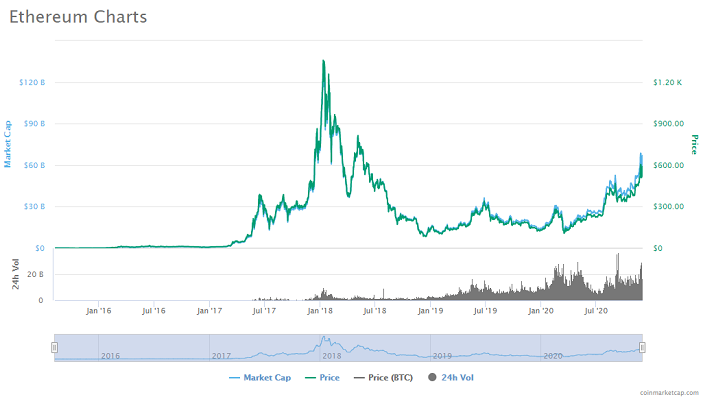 Dynamics of Ethereum prices for all time
Over the years, Ether has earned a reputation as a stable and secure cryptocurrency, and it has proven that, like all crypto, it is unstable with sharp price increases and decreases. Thus, ETH gave investors a chance to lock in profits. Recently, the crypto asset has been showing tremendous growth, attracting more and more investors and gaining more and more popularity.
What drives the price of ETN
Mining an Ethereum block takes about 15 seconds, and Bitcoin takes 10 minutes. Thus, it is obvious that Ether is growing much faster than Bitcoin.
There are currently 112,503417. 62 Ether in circulation, and unlike Bitcoin, which can reach a maximum of 21 million BTC, the total supply of Ethereum is not fixed. This means that no one knows exactly how much ether will be at the maximum.
Three factors will determine the price of a crypto asset in 2021: decentralized Finance, Ethereum 2.0 – "Serenity" and the link to Bitcoin.
Factor 1: decentralized finance
Decentralized Finance is the future of the financial world. Ethereum is synonymous with Defi because it supports many cryptocurrencies in the decentralized financial sector. The Ethereum blockchain contains more than 200,000 ERC tokens, some of which are among the top hundred cryptocurrencies. Many of these cryptocurrencies are active in the Defi space. As Defi gets bigger, and the more demand there is for it, the more valuable it is and the more the price of Eth will grow.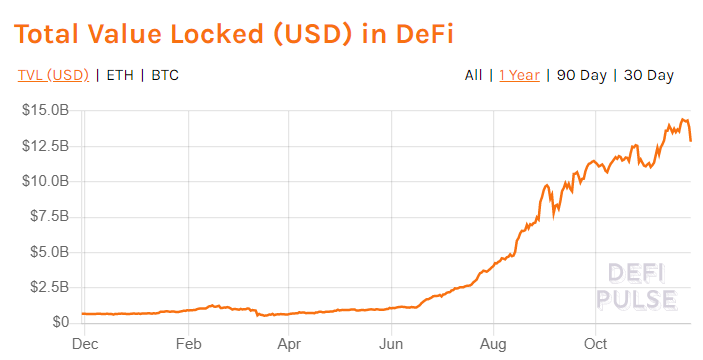 The total cost of DeFi as of August 2020.
Decentralized financing looks like it will be a real competitor to the traditional method of centralized financing, and Ethereum plays a key role in this, thus attracting investors and causing an increase in value.
Factor 2: launch of Ethereum 2.0 – "Serenity".
Ethereum spent 22.65 kWh of electricity per transaction, which is a lot if you count for the year as a whole. This is because Ethereum used a proof-of-work (PoW) algorithm, in which miners must use sophisticated computer systems to verify transactions and thus integrate them into the block chain.
On December 1 of this year, the launch of Ethereum 2.0, which was so expected, took place. Eth2 or" Serenity "uses a proof-of-stake (PoS) algorithm system, with which users can" put " a Deposit in cryptocurrency to verify their transactions. This is a much more efficient and faster method than the proof-of-work (PoW) algorithm that Ethereum has used in the past.
So, the update is aimed at improving the speed, performance, and scalability of the Ethereum network. But how will it affect the value of the coin?
Many cryptocurrency enthusiasts believe that after the 2.0 upgrade, the price of the crypto asset will increase significantly.
"The gun will go off," Jamie Anson, founder of Nifty Orchard and organizer of Ethereum London, told Decrypt when asked about the impact of launching the update on the asset. "As soon as the network gets scalability using layer 2 or ETH 2.0 technology, all questions will be answered," he added.
With Eth 2.0, there will be more focus and scalability, which Anson says will bring more usage.
"By the time ETH 2.0 and storage packages work together, the throughput will be 100,000 transactions per second. This will mean that for the next billion people, the network will work perfectly, " Anson said.
"This will have a long-term bullish impact on the ETH price-despite the short-term volatility that is integral to valuing crypto assets," said Matt Cutler, CEO of Blocknative, speaking from Decrypt.
Factor 3: correlation with Bitcoin
Historically, Ether has been associated with Bitcoin. When two assets are correlated with each other, it means that their price moves in the same way. So, at times when the price of PTS increases, the price of ETH also increases. The same thing happens when the price of the BTC falls, the Ether follows it.
According to Cryptowatch, the correlation of ETH is currently 0.78, which is the highest among other altcoins.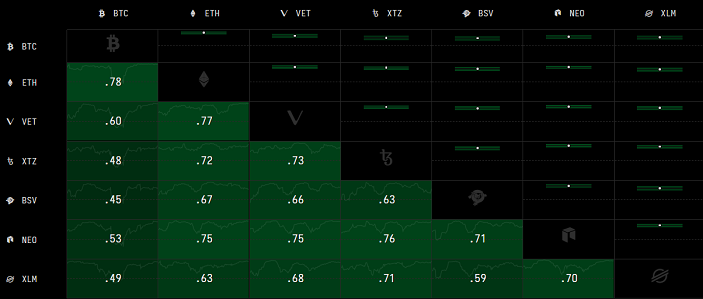 Correlation of altcoins with BTC
In July 2020, the correlation of Ether with the BTC was 0.95. Although, as we can see, there is a sudden short-term drop to 0.78, Ether is still strongly correlated with Bitcoin and continues to benefit from this correlation.
Ethereum investment opportunities for 2021
The three main driving factors of the asset are one for 2021: the price will depend on the success of Defi and the launch of Ethereum 2.0.
On January 10, 2018, the coin reached a record high of $ 1,412. After that, its price declined, and only this year the coin began to grow sharply. In fact, 2020 was a great year for the asset. The coin entered the year a little slower, with a value of $ 127.41, and reached $ 279 in February. When Vitalik Buterin announced the launch of Ethereum 2.0, the price started to rise, and it overcame the $ 500 resistance. At the moment, the cost of crypto-asset is $ 610.
When asked how much the price of Ethereum can grow in 2021, crypto expert Ivan On Tech tweeted on November 22, 2020: "in a few weeks, ETH will grow to $ 1,000, and then to $ 5,000."
How likely is it that Ether will reach the price of 5K $? Is the crypto expert exaggerating, or is it possible that the coin will actually grow to 5,000?
Well, to better understand the situation, we need to compare it to 2017, when the crypto boom occurred. At that time, the halving of Bitcoin gave a boost to cryptocurrencies, as the halving occurred in 2016, i.e. the previous year, and its impact was immediately noticed in the following year.
Given how Ethereum reacted to the crypto boom in 2017, rose sharply and reached a record high in January 2018, something similar may happen again in 2021, since we are currently, according to experts, in the same position as in 2017.
Now, the Bitcoin halving occurred on may 11, 2020, and the real impact on the price of the cryptocurrency has already started to be noticed, but according to experts, the greatest impact will be seen in the coming year.
Thus, since Ethereum and Bitcoin are interconnected, Ivan on Tech may be right, and we will be able to witness how the Ether will reach $ 5 thousand. Ethereum and Bitcoin are likely to rise sharply in price together in 2021.
This is really possible, because let's not forget that the Ether can surprise. In the past, it has risen from $ 0.25 per coin, to a record high of more than $ 1,400 in just three years.
Add to this the fact that upgrade 2.0 is launched, plus expectations of increased demand for Defi, then Ethereum has no reason to hold back.
Cost after 2021
In all likelihood, the pricing policy is likely to be affected by the volume of demand for Defi. Namely, how much Defi can grow and get support.
If there is support, then Ethereum will become even more expensive. "Serenity" will also have an impact if everything goes well. And then give at least one reason why it doesn't grow.
"When the triple bottom is reached and ETH reaches its previous historical high, it could reach a price of more than $ 35,000 by the end of 2025," Primexbt claims.
Is Ethereum a good investment?
Yes! Based on the above facts, the future of the crypto asset is very bright. Ethereum is, first of all, a great asset for investors who can take advantage of price fluctuations with a long or short position. It has given investors investment opportunities, despite the fact that it has had low prices in the past. This is best explained in the table below.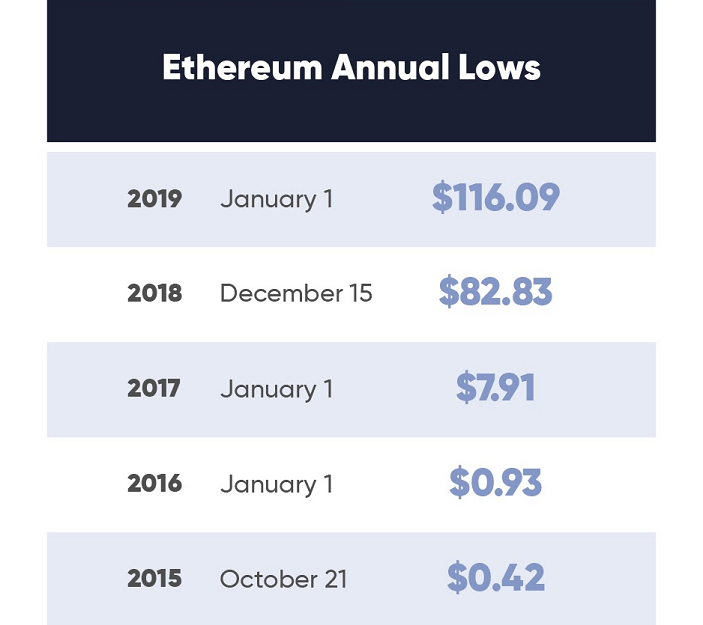 Ethereum's annual lows throughout its history
It is known that after these prices, the Ether will grow to 1000%, which will give investors great opportunities to make a profit.
Knowing that Defi has a lot of potential, and considering the forecasts of experts and the history of the crypto coin, we can conclude that this is a good investment. Moreover, Ethereum receives a lot of support and love from the cryptocurrency community.
However, investing in crypts can be very risky if you don't know what you're doing. Although no investment is risk-free, investing in Ethereum can bring good returns in the coming years. Whether you are new to investing or just want to learn how to make the most of your investment, understanding what you need to know before becoming a member of the crypto market is crucial.
The most successful investors are those who are best prepared.