Now cryptocurrencies are not just an "Internet thing". Now they have finally disproved the reputation of a "fraudulent asset" or "Ponzi scheme," as some critics call them. Times have changed.
2020 – the era of institutionalization of cryptocurrencies
Now, not only retail investors are investing in cryptocurrencies. We are talking about large world-famous financial organizations that invest a lot of money in Bitcoin.
October 20, 2020 will be remembered as a historic date for cryptocurrencies. On this day, the largest payment platform in the world, Paypal, decided to give its users the opportunity to buy cryptocurrencies on its platform. This news not only caused a storm among supporters of cryptocurrencies, but also surprised critics.
This was the moment that marked the beginning of the cryptocurrency's bullish movement, when on January 8, 2021, the price of Bitcoin reached a new record of $ 41,941. This was a new milestone for Bitcoin. Few people thought in 2009, when Bitcoin was launched, that the day would come when it would reach and even exceed the price of $ 40K.
Overall, 2020 was not a good year. This is a year that we all want to forget as soon as possible. It will be remembered as the year of the COVID-19 pandemic. We will remember it as a year of isolation and quarantine. The COVID-19 pandemic has caused significant damage to the global economy.
However, the way the cryptocurrency market has responded to these economic changes has shown that the COVID-19 pandemic has benefited cryptocurrencies. Initially, at the beginning of the year, the crypt experienced a sharp decline. In March, the price of BTC fell below $ 4,000. However, it did not take long, and cryptocurrencies began to recover.
When the global economy was going through hard times, some large investors found it wise to invest in Bitcoin. They believe that Bitcoin can serve as a safe haven and hedge against inflation. Some of the most prominent investors of 2020 in Bitcoin are:
Microstrategy – $ 1.3 million;
Ruffer Investment – $ 744 million;
Stone Ridge – $ 115 million;
Massachusetts Mutual with a $ 100 million bitcoin investment.
Moreover, Grayscale has $ 13 billion in crypto assets under their management.
Besides:
JP Morgan starts Gemini and Coinbase banking;
Visa and Mastercard have started providing services to cryptocurrency companies;
Paypal Launches Crypto Services;
Fidelity has introduced a new Bitcoin index fund.
This is one of the most significant steps of some world-famous companies in the direction of cryptocurrencies.
And it was these investments that caused crypto assets to experience bullish growth: Bitcoin reached a peak of $ 41,941 on January 8, 2021, and Ethereum – $ 1,336 on January 10, 2021, not far from the all-time high of $ 1,432 reached on January 13, 2018.
Microstrategy's Michael Saylor is a Bitcoin Supporter in 2020
Michael Saylor, CEO of Microstrategy, the largest independent public business intelligence company that has invested $ 1.3 billion in PTS, continuously promoted the crypto asset on Twitter and in the mainstream media. After the company's massive investment, Saylor has repeatedly stated that Bitcoin is a complex digital gold and "a masterpiece of monetary engineering."
In an interview with CNBC, Saylor said that every institutional investor is looking for a safe haven asset, and that asset is Bitcoin. "Bitcoin is a pharmaceutical grade synthetic gold. These are all the benefits of gold, but you can't get more out of it," said Saylor. He went on to say that eventually other large companies will have to convert their treasury assets into crypto, whether they want to or not.
These words come from the CEO of the largest independent public business intelligence company, with a leading corporate analytics platform.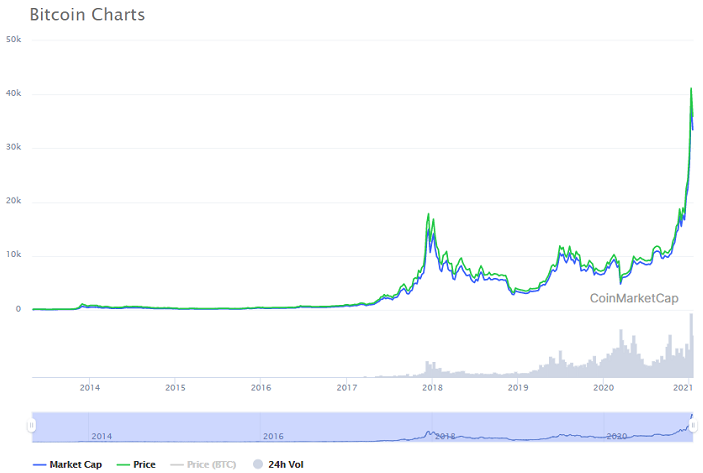 The fact that Bitcoin has reached this point shows its potential and its future. If we rely on Saylor's words, soon other big reputable companies will probably view the Cue Ball as a place where they can convert their savings.
Crypto Market Capitalization Exceeds $ 1 Trillion
January 7, 2021 is another historic date for cryptocurrencies as they have reached a new milestone. On this day, the total value of the cryptocurrency market for the first time in its history exceeded $ 1 trillion.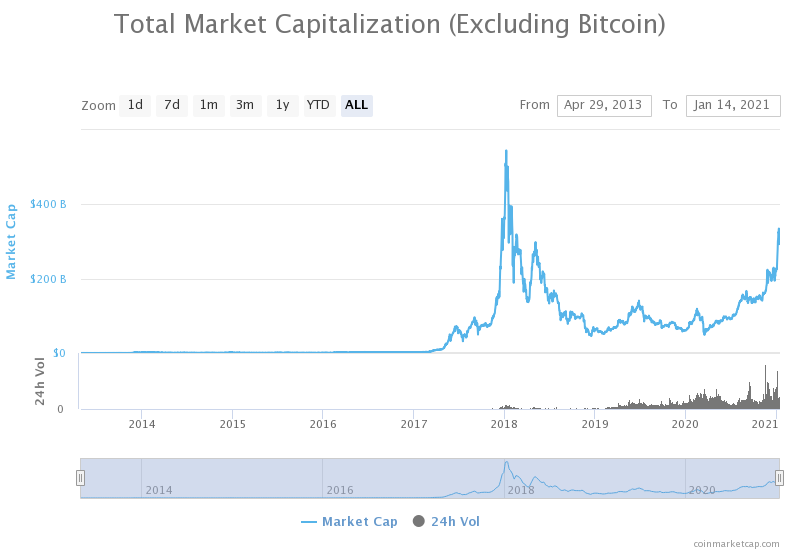 This achievement surprised many, but not Chainlink co-founder Sergey Nazarov. "While outside observers may view the cryptocurrency industry, estimated at more than $ 1 trillion, as an incredibly important milestone, in fact, our sphere is still at one of the earliest stages of development and growth," said Nazarov.
Analysts believe that this increase occurred after all the institutional investments mentioned above. According to them, these investors are losing faith in the dollar and investing in assets such as Bitcoin.
"The main price level has been reached, and Bitcoin has proven that it is not an asset class that will give you extra trouble. Today, he showed himself to all non-believers, " said Naim Aslam, an analyst at AvaTrade. "Institutional traders are the ones who really lifted the rally," he added.
According to coinmarketrate, at the moment, the total value of the cryptocurrency's market capitalization is $ 1.01 trillion. Bitcoin is making the most of it with $ 668 billion, followed by Ethereum with $139 billion.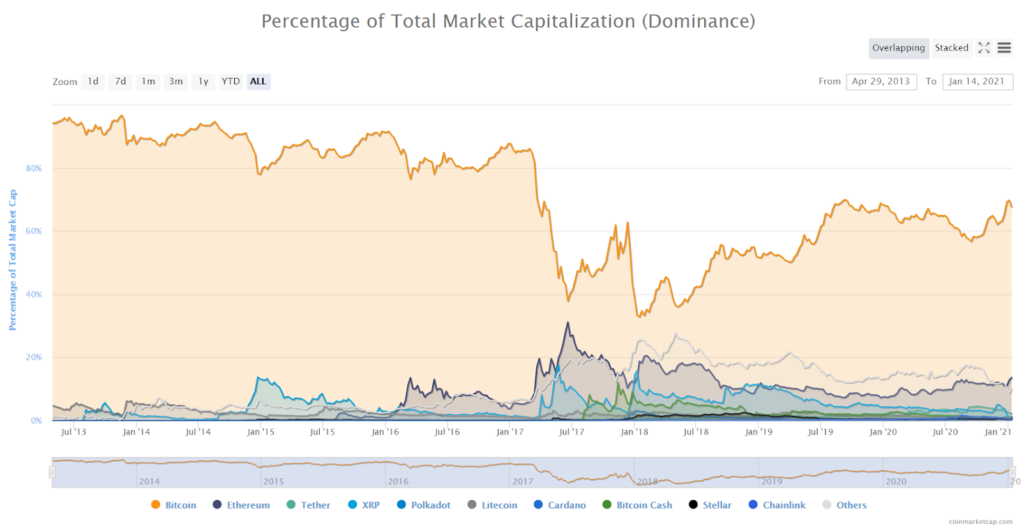 From Crypto Critics to Crypto Investors
Just as cryptocurrencies have many supporters, there are also critics. Although they used to criticize Bitcoin and cryptocurrencies, now some of them have become investors. One of them is Dallas Mavericks owner Mark Cuban, who has always been critical of cryptocurrencies. In a series of tweets with Tyler Winklevoss, Kubin said he had never invested in crypto before, nor sold it.
In addition, Jamie Dimon, chairman and chief executive of Wall Street bank JP Morgan, once called Bitcoin a scam. "It's worse than rat poison. This is going to end badly. Someone is going to be killed, " he said, answering a question about Bitcoin in 2018. However, in 2020, JP Morgan changed its position by 180 degrees, launching the JPM stablecoin.
Moreover, JP Morgan is now paying close attention to cryptocurrencies. On January 5, 2021, JP Morgan published a note stating that Bitcoin could rise to $ 146,000 in the long run as it would compete with gold.
The fact that critics of cryptocurrencies are already investing in them clearly shows that the crypto is getting the approval of investors.
Altcoin Growth after the BTC Rally: Will 2021 be the year of the altcoin season?
Cryptocurrencies are correlated, although the correlation was less noticeable than during the cryptocurrency boom in 2017. However, altcoins has risen again after the rise of Bitcoin.
"We've seen altcoins pump up by correction, both before and after January 11, in ways we haven't seen since 2017," said Andrew Tu, chief executive of Efficient Frontier.
Ethereum reached $ 1,336 on January 10, 2021, just short of the all-time high of $ 1,432 reached on January 13, 2018. This is also the expectation of crypto analysts, given that decentralized finance (DeFi) is on the rise. And plus the launch of Ethereum 2.0 in 2020.
DeFi aims to revolutionize the financial world, for example by getting rid of middlemen like banks when someone takes out a loan. Investors see Ethereum as a model of DeFi.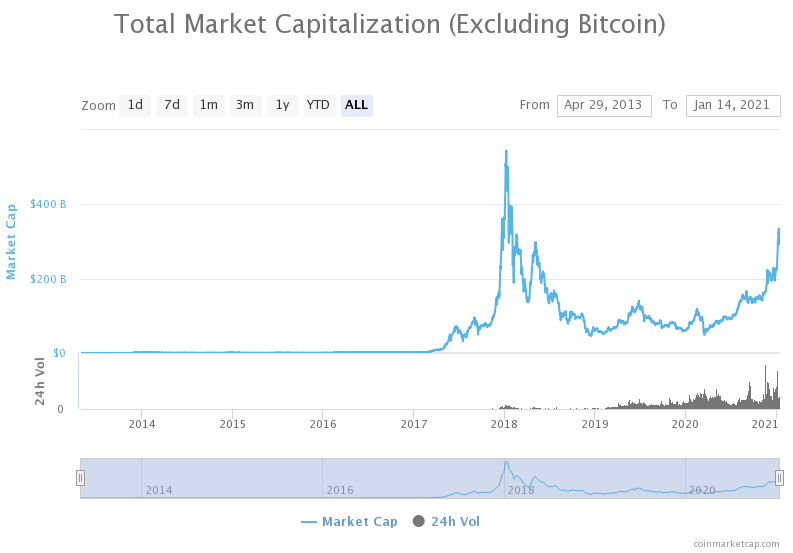 Historically, when Bitcoin has experienced bullish growth, altcoins also follow it. For example, in 2014, when BTC soared to $ 1,200, it was followed by Litecoin and approached $50.
In 2016, there was a halving of Bitcoin. A year later, in December 2017, the crypto asset reached almost $20,000. Both Ethereum and Ripple also rose after Bitcoin halved in 2016. Ethereum rose to a record high of $ 1,432 in early 2018. XRP also followed suit and reached its all-time high of $ 3.34.
If we look at these events in the past and how the market is gaining momentum, 2021 could really be the altcoin season. In addition to Ethereum, some of the alternative coins with the greatest potential in 2021 are Ripple, Stellar, Chainlink, Cardano, TRON and Tezos.
Naturally, you want to know where the cryptocurrency will go in 2021? You should bear in mind that all comparisons made now with the "cryptocurrency boom" of 2017 may be inaccurate, because now everything is different. It should be taken into account that we have institutional investors, unlike in 2017, when the majority of investments came from retail investors. So now we are dealing with other factors that affect prices.
Nevertheless, cryptocurrencies of the beginning of the year are gaining momentum with particular persistence, which can lead to new record prices. If major financial institutions continue to invest in Bitcoin in 2021, then in all likelihood, its price could skyrocket, as some analysts predicted, to $ 100,000 or even higher. And, given that Bitcoin dominates the market by 69%, exerting such an impact, altcoins are likely to follow.