Looking for a Tezos forecast for 2021-2025? Are you interested in whether its price will rise or fall? Read the forecasts of XTZ for 2021-2025 from leading experts, and you can already put together an investment strategy for this crypto asset.
Analytical analysis of the future price movement of Tezos
Today, many traders are not satisfied with dealing only with Bitcoin. The abundance of altcoins and the benefits they offer are simply driving investors crazy. We will share the price forecasts of the Tezos crypto asset for 2021-2025, and tell you what experts say about its future performance and how much the coin will cost.
Tezos (XTZ) is the 19th largest crypto asset in the world. It was launched through an initial coin offering (ICO) in 2017, and broke records with its incredible $ 232 million investment. But for most of 2020, both investors and analysts were pretty disappointed with its results. Fortunately, this is starting to change now, and many people are wondering what the long-term prospects of this digital asset are.
Tezos is a smart contract platform that differs from its competitors in its network management model. Its own token is known as tez or tezzie (XTZ). The founders of the third-generation cryptocurrency sought to avoid some of the pitfalls that old coins fell into, especially Bitcoin. These include the BTC proof-of-work algorithm, and its ambiguous hard forks.
To understand each price forecast, it is important to understand exactly what tezos is and why It differs from most other cryptocurrencies on the market.
As we mentioned, Tezos is a platform that supports the use of smart contracts. Smart contracts automatically encode specific transaction terms, such as the amount of money you pay and the party you pay it to. Since the terms of each transaction are written into the technology that facilitates payments, this means that XTZ is completely transparent – an attractive feature for many traders.
Another distinctive feature of the blockchain is the self-government model. Its management rules allow stakeholders to approve protocol updates, which can then be immediately deployed to the network. This not only means that the network can quickly adapt to changes, but also means that users are directly involved in managing the block chain. This leads to a more democratic network.
Despite the attractiveness of the Tezos blockchain and the record-breaking nature of its ICO, the cryptocurrency has faced difficulties in its release. A dispute between its founders led to the launch of the platform being postponed indefinitely, resulting in investors filing a legal case against the Tezos Foundation.
What crypto experts predict for XTZ in 2021
After encouraging results in the second half of this year, many investors are eager to see what might happen to Tezos next.
One platform that thinks it can provide an answer is the Italian crypto site Previsioni Bitcoin. This site has been optimistic about the prospects for many different cryptocurrencies in the past, and it's clear that Tezos is no exception, as seen in the chart below: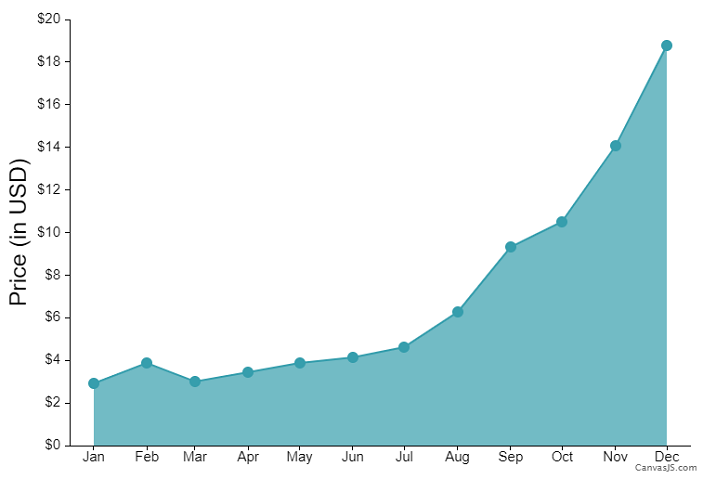 According to the internal Previsioni Bitcoin algorithm, it predicts that the price of the asset in 2021 will be $ 2.92888. This is not much higher than its current value of $ 2.19, and we are likely to see very gradual growth over the first six months of the year. The tipping point is likely to come in July, when the price reaches $ 4.6059. From here, the trend becomes significantly more bullish, and XTZ soared to an incredible $ 18.77779 by December.
If this forecast is correct, it means that Tezos could reach its previous all-time high (ATH) of $ 4.3606. This would be great news for investors and anyone hoping for a positive answer to the question "will Tezos go up?". So, are other predictions consistent with Previsioni Bitcoin?
Unfortunately, this forecast is much different from that of DigitalCoinPrice. This crypto platform predicts an unstable and incredibly bearish year ahead, even claiming that the asset will spend half of 2021 with a negative value.

This is a shocking forecast and very bad news for current Tezos investors. According to its forecasts, XTZ will start the year with a strong price of $ 4.29, rising to a one-year high of $ 6.69 in February, before falling to a historic low of $ 4.76. In July. Although this figure will start to rise around September and close the year at a much more encouraging $ 5.36, this level of volatility is incredibly worrying.
However, if DigitalCoinPrice is correct in saying that XTZ will recover by the end of the year, this may provide a great opportunity to cash in on the panic of other investors. If everyone starts selling xtz in april, may, and june, you can potentially make a profit by buying the asset on the cheap and weathering a six-month storm until prices recover.
Our final short-term Tezos price forecast is made from Trading Beasts. Its forecasts lack the extreme volatility that characterizes DigitalCoinPrice, but unfortunately its forecasts are no more encouraging.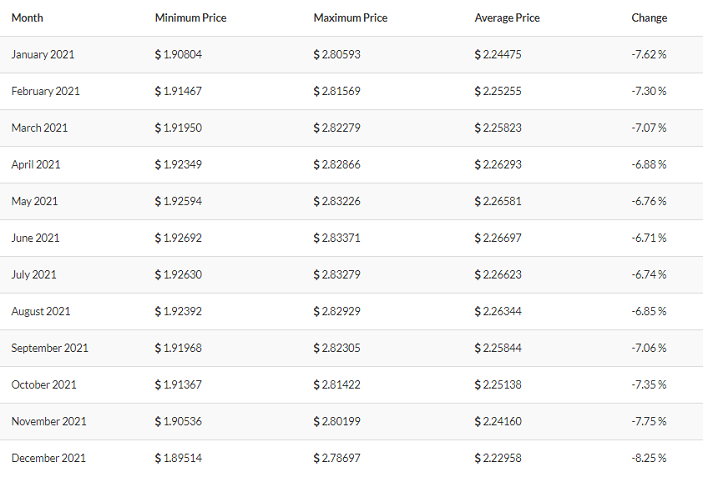 As we can see, trading beasts predicts that the altcoin will experience very little volatility at all. In its average minimum and maximum forecasts, the cryptocurrency remains surprisingly static, with few changes.
In fact, the difference between its average and maximum forecasts is very small. None of the columns predict that the price will exceed $ 3, which is disappointing given how many investors are hoping that 2021 will be a breakthrough year for the cryptocurrency. In general, trading Beasts forecasts are rather disappointing.
What crypto experts predict in 2022 and beyond
Although the prospects for bitcoin are usually different, these projections are incredibly unconvincing. If you're no closer to answering the question "is tezos a good investment?" then it's important to look even further to see if the long-term outlook is more positive.
Let's start by going back to previsioni bitcoin. Given that its forecasts for 2021 were (by far) the most optimistic of the three we included in this article, does the platform believe that altcoin will maintain its optimistic performance in 2022 and beyond?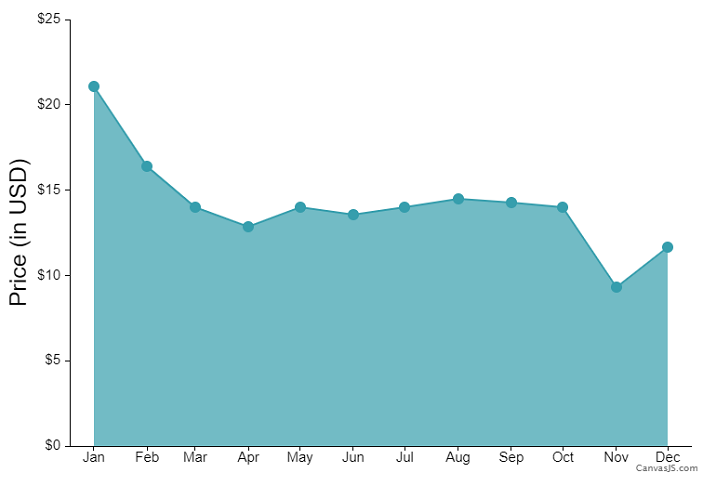 Clearly, previsioni bitcoin does not expect the breakout to be sustainable. While this chart looks upbeat compared to the 2021 forecasts from DigitalCoinPrice and Trading Beasts, it shows undeniably bearish growth. The platform predicts that the price of XTZ will decline to $ 12,83475 by April, continuing to fluctuate between $ 12 and $ 14.5 over the next six months, and then fall to $ 9,30225 in November. By the end of the year, this figure will rise to $ 11.65725, but this is still much less optimistic than his expectations for 2021.
Similarly, DigitalCoinPrice does not expect the price of Tezos to rise in the next couple of years. In fact, its forecasts for 2024 are very bearish indeed:
According to the forecasts of digitalcoinprice, the fall of the crypto asset to negative values in the middle of 2021 was not just an accident. The platform believes that XTZ will remain between $ 0.67 and $ 3.89 for the first nine months of 2024, before rising again to $ 4.80 in October. Despite the fact that this is a significant increase in just one month, it is not enough for investors to be confident in the asset's prospects.
By 2025, DigitalCoinPrice expects XTZ to recover somewhat, but not completely. According to its forecasts, the price of XTZ will be between $ 2.65 and $ 10.69 over the course of the year, suggesting that volatility will still significantly reduce its value. Taking into account Previsioni Bitcoin's forecasts for an XTZ valuation of more than $ 18, the annual high of $ 10.69 looks a bit disappointing, especially for the five years ahead.
Fortunately, however, the good news is that other forecasts are more positive. Cryptocoinsociety.com believes that Tezos will reach $ 24.06 in 2025, which represents an impressive 825% increase from its current price. The platform cites the stable self-governance of the crypt and its ability to host smart contracts as two factors that can contribute to this growth.
It is assumed that as a long-term investment, the asset can perform very well. According to his forecasts, the cost of XTZ can grow to $ 3.56 by the very end of 2021, to $ 5.21 in 2022 and reach an average price of $ 15.42 by 2025.
What factors influence the price of Tezos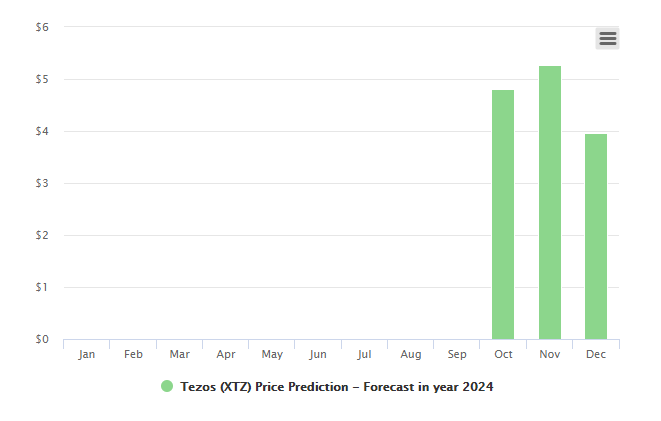 In addition to viewing the main cryptocurrency forecasts, it is important to understand some of the key factors that can affect the price of assets such as Tezos. This will make it easier for you to predict potential breakout periods (or failures) in response to current events.
While predictions are great to start with, if you're wondering, "is this or that coin a good investment?" you can't rely on predictions alone. The market can be shaken by really unpredictable factors, a Prime example of which is the collapse due to the coronavirus this year, or what is happening today in the United States. By understanding how different events can affect the price of Tezos, you can create a more effective contingency strategy if something unexpected happens.
Let's look at the three main factors that can affect the price of XTZ.
This is the number one factor that will determine whether the price goes up or down. When the supply of an asset exceeds the demand, the price falls because there is no competition. When demand exceeds supply, the price increases. This is because more people want to buy it than sell it.
When it comes to cryptocurrency reputation, social media can improve it or break it. There is a strong correlation between the number of mentions of an asset on the Internet and the amount of investor attention it attracts. If a cryptocurrency is poorly reviewed on social networks, it can undermine trust and lead to a drop in its price.
When the launch of Tezos was delayed due to tensions between members of Its founding team, it caused widespread outrage among potential investors. People who invested in its record-breaking ico took to social media to share their frustration, and as a result, more and more people were losing confidence in the once-long-awaited altcoin.
Another key factor that can affect the cost is partnerships. When a cryptocurrency cooperates with a reputable business, it has a huge positive impact on its price, as it increases the usability of the asset. The more real use cases of a particular cryptocurrency, the higher the demand for its services and, therefore, the higher its price.
Conclusion
And so, the forecast numbers below represent some of the possible highs and lows of price forecasts offered by technical analysts and industry experts.
Year maximum $ minimum $
2021 4,30 0,90
2022 6,50 1,50
2023 8,30 1,90
2025+ 24,12 8,5
If you were looking for answers to your questions, you can only believe that you have found them. Whether you have Tezos in your portfolio or are planning to start investing, we hope this article has helped you answer the question "Is Tezos a good investment?".