DeFi is growing rapidly in 2021. Is the current level of interest and capital inflows sustainable, and what's next for decentralised finance?
What happens next with DeFi?
The first quarter of 2021 was a busy one for the world of DeFi. From January 1 to the end of March, total locked-in value (TVL), the amount of capital held in DeFi protocols, rose from about $16 billion, to more than $49 billion.
At the same time, a number of DeFi assets continued to perform incredibly well. According to Messari, at least 74 DeFi assets have increased their value by more than 100% since the beginning of the year. The value of seven of these assets increased by more than 1,000%.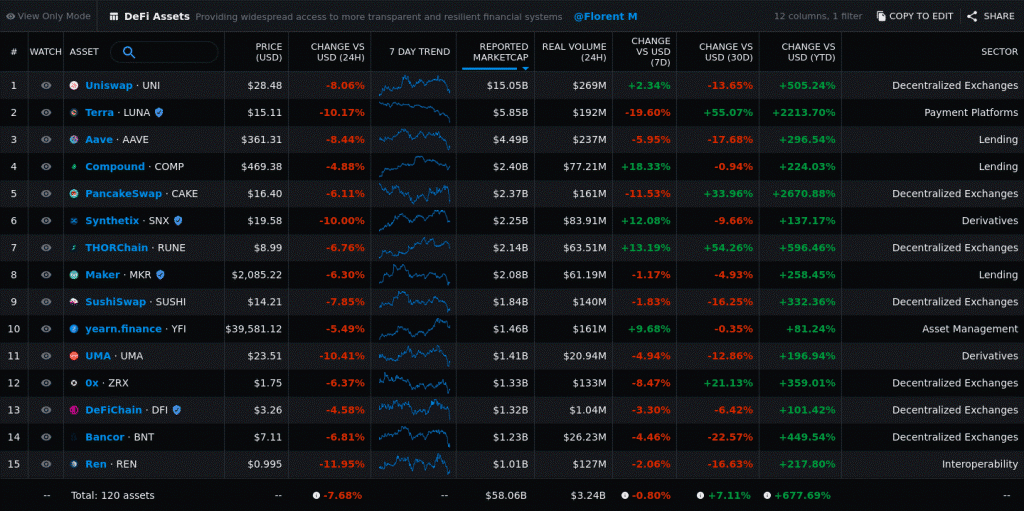 The high performance of the DeFi space in general seems to have created a kind of "snowball effect".»: the more money goes into DeFi, the more new investors and users they attract. So the cycle continues, or at least that's what happened.
Nishank Khanna, chief financial officer at Clarify Capital, told Finance Magnates that one of the most important trends to develop this year is the continued entry of corporate investors into crypto assets, including DeFi assets.
"Companies will continue to buy cryptocurrency," Hanna said. "Just like ordinary people, they are also afraid of missing out on an opportunity. We can expect corporations to continue investing in cryptocurrencies for several reasons. Some want to make sure they don't miss out on making money, while others believe in DeFi's mission and see it as the future of finance."
"There are more and more DeFi supporters who are influential decision makers and industry leaders, including in corporations," Hanna explained to Finance Magnates.
Does DeFi show signs of market maturity?
As more of these large investors enter DeFi, the ecosystem may also begin to show signs of market maturity.
Konstantin Richter, CEO and founder of Blockdaemon, explained that there are growing signs that decentralized finance is already beginning to enter a maturing phase, with central banks and big businesses exploring its potential economic impact.
"While there are still kinks to be fixed, especially in terms of their sophisticated UX and attracting a broader demographic of retail users, DeFi is a tangible and market-ready tool that has the real potential to revolutionize our financial system."
How exactly can DeFi revolutionize the financial system we know about? Clayton Weir, director of strategy at FISPAN, explained that at a basic level, decentralized finance has already transformed banking, and if we talk about the future, they will remain even after the pandemic subsides."
"While this technology is usually only viewed through the lens of cryptocurrency, it goes beyond this use case," he continued. "I believe that decentralized finance is a form of finance that successfully eliminates intermediaries to simplify transactions. It is part of a broader "open finance movement" that works to create a globally accessible alternative to all the financial services used today, from savings to loans, insurance and more.
In other words, DeFi provides many of the same financial services as banks, but in a decentralized and autonomous manner. For example, banks traditionally accept deposits and provide loans to both individuals and corporate clients as the main offer, but De-Fi allows you to borrow and lend money on an even larger scale between unknown participants and without intermediaries," Weir explained.
"Third-party applications help to bring lenders and borrowers together without the mandatory intervention of an intermediary. The protocols are inclusive, and anyone can interact with them at any time, from any location, and with any currency."
Is DeFi a "rich get richer" tool?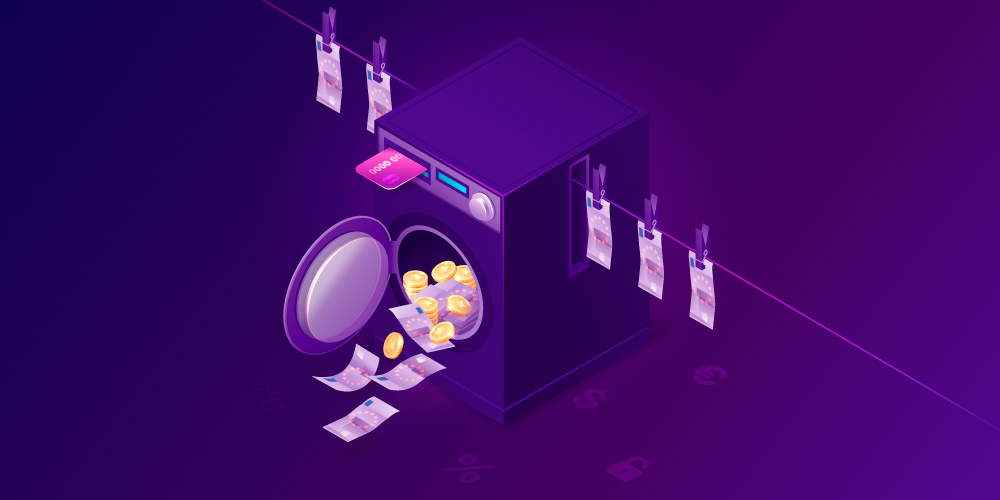 Indeed, the term "inclusive" and the concept of inclusivity were an important part of the DeFi world ideal. However, as more institutional and corporate investors continue to enter the DeFi space, critics point out that DeFi can be a tool to "make the rich even richer."
For example, Chris Remus of Chainflow wrote an article on TheDefiant.io how Proof-of-Stake (PoS) algorithms, which run many DeFi protocols, promote centralization and make the rich richer. In the CoinDesk article tagline "Crypto Writer and Analyst", Lee Kuen called DeFi "the whale's game".
Nishank Khanna told Finance Magnates that while DeFi may be helping the rich get richer, there is a lower barrier to entry when it comes to investing in coins.
"Low-income individuals and communities have the opportunity to buy cryptocurrency and grow their wealth," he said.
Indeed, while DeFi whales and large institutional investors may have more capital to play with, there are virtually no barriers to entry into the DeFi ecosystem.
Nick Pappedgeorge, senior analyst at Delphi Digital, said: "Everyone who uses these protocol-based services is on an equal footing, so this is not a story about how to get rich."
"DeFi is more inclusive than the traditional system because a low-income person is treated the same as a large corporation," he said.
However, there are undeniable facts when it comes to participating in DeFi and earning income from it: "The initial cohort of DeFi users probably tends to be cryptocurrency-based and well-off," Pappedgeorge said.
"There is little to stop low-income people from taking advantage of these services, especially when the gas fee (a barrier to acceptance that can mean every 'click' in the DeFi app costs $ 10+) is significantly reduced with the upcoming update to Ethereum."
Accessibility and inclusivity in DeFi
Hence, DeFi is indeed much more inclusive, or at least has the potential to be more inclusive, than the traditional financial system as we know it.
"By default, DeFi does not require trust and permissions, which means that anyone can use the services," Pappedgeorge explained. "In theory, this is a much more inclusive technology than the traditional financial system, where the realities of credit scoring, regulation, and profit motivation mean that certain groups of users get better terms than others."
"There is also a great guarantee of liquidity and security, because the platforms that manage your money can't suddenly decide to change the terms," he continued.
"For example, I have seen centralized exchanges suddenly stop trading a certain pair of tokens arbitrarily, leaving traders unable to take advantage of the price action."
There are also practical and logistical things that make DeFi potentially more accessible to wider user groups. "DeFi also supports digital technology and operates around the clock and seven days a week, so you don't have to wait for business hours to access a loan," Pappegiorge said.
Will DeFi overlap with traditional banking?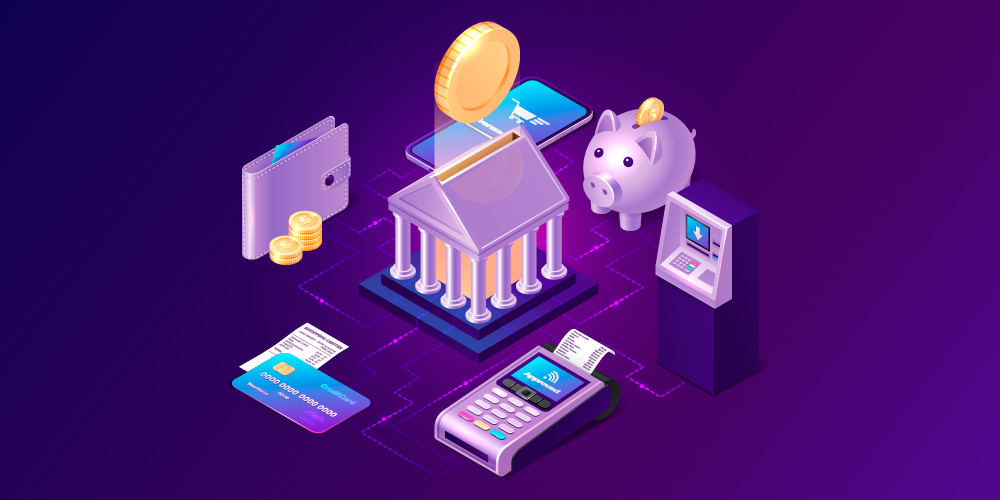 Indeed, this accessibility to credit and other types of financial services is what Pappegeorge believes has contributed greatly to DeFi's success.
"The most important things that are being done now are probably related to trade and lending. Decentralized trade and lending have become the backbone of the DeFi economy, " he said. "Projects like Uniswap and Aave, for example, mimic the services of real companies like Coinbase and BlockFi, with the exception of all the additional benefits. The ability to borrow and trade now opens up a lot of new opportunities in the space."
And while the difference between DeFi and the traditional financial system was quite profound, it is possible that banks will eventually adopt a lot.
According to Clayton Weir of FISPAN, banks have an advantage when it comes to using DeFi because they already store a large amount of data about their customers.
"These are great opportunities for banks as their role changes from storing money to distributing it, and they increasingly act as a validator between different decentralized registries, using data they already have access to," he said.
"For example, a bank has an understanding of the customer's entire payment network, which means it can then rationalize and contextualize these ideas to later provide them to the customer in the form of an incredibly powerful user experience for the customer in the future".
So one day, DeFi-based financial services may become the norm. A large number of global banks will be connected via this high-tech and secure network, where they will be able to communicate with each other across a wide range of data points. But in the short term, account checks is the isuue in which bank plays a key role. In the future, this is what will change the ease, openness, time and cost of executing how we transfer money internationally.
Great efforts are made to interact with the client / user, and this is not only related to the provision of traditional banking services. It's about providing guidance, advice, and decision-making tools, and the best decision-making tools are those that are data-driven.