After the announcement of the purchase of Coin Market Cap by the platform for trading and buying Binance crypto, a distrust appeared towards It. The takeover, which took place on April 2, 2020, could have caused a serious conflict of interest.
CoinMarketCap and the trust of the crypto community
After Coin Market Cap was acquired by the Binance crypto exchange, it took firmly the first place in the rating of exchanges. This is not to mention the inflated volumes that the resource constantly exposes as a confidence factor. The confidence factor can certainly be seen as an improvement, but it has not received universal recognition, since Binance is an exchange, and it can manipulate the announced prices in its favor, and does so. The crypto community doesn't like this.
However, in an ecosystem where decentralization is the key word, it is important to be able to count on other participants. So, what alternatives do we have today? We are to present 4 sites that will allow you to find out the value of crypto assets, in case your distrust of CoinMarketCap becomes too strong.
CoinGecko is considered the main competitor of CoinMarketCap, and it is not for nothing that its offer is very similar, if not broader. First, if you visit the Little Green Gecko website, you won't be disoriented. Partly because the appearance is noticeably similar to CMC in terms of the GUI. Now let's get to know what we are most interested in, namely the proposed features.
In General, CoinGecko has a relatively similar service. For example, you have a list of existing trading platforms on the market. They even created a trust index that they maintain. After consulting it, you will also find the market capitalization and other current data on cryptocurrencies. In particular, the platforms where you can trade this digital asset. In short, you will quickly become familiar with this comparator, as it groups data that is essentially identical to that of its competitor.
In addition, it is a site with most languages, currencies, and cryptocurrencies. So, of course, the recorded cryptocurrencies sometimes have no volume, unlike competitors. On the other hand, the fact that it supports almost 21 languages and more than 40 currencies makes it more accessible and more popular than any other site. Finally, as for the number of cryptocurrencies, it exceeds 7000. Thus, there is a high probability that you will find even the smallest of altcoins.
Finally, a notable fact is that you can download the app to your smartphone. We know that when we view courses, it's not just on our computer. Often, regardless of whether you are a trader or a hodler, you should have a tool that allows us to find out the price at any time to protect against the risk of a fall, as well as to prevent a spontaneous rise. This is why apps become important. Now they even allow you to set up alerts when price levels are reached.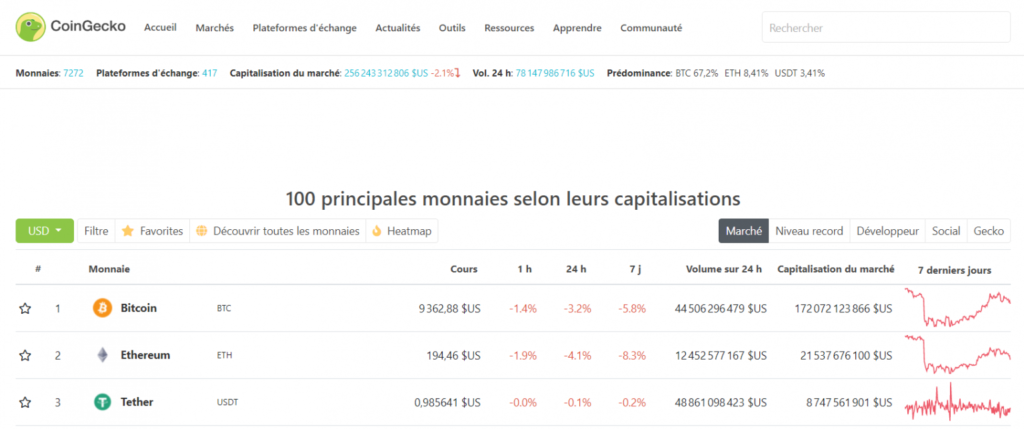 If you are looking for simplicity, then Coinpaprika will fully meet your needs. Its offer is certainly similar to the previous one, but the choice is of fundamental importance. And we will see that there are still some differences.
The site allows you to track the price of a significant number of coins, as well as the number of currencies and languages. Although there are fewer of them than on CoinGecko, this variety is rare. The search capabilities are almost identical to the previous platform. Not without justification, we will put forward the most interesting thing, namely, that the site is attached to the white paper of each cryptocurrency. This is one of the few resources that offers this service.
Recently, many people are interested in the type of data used to inform about liquidity. This is one of the few sites that illustrates liquidity levels by displaying order book opposition. That is, the meeting of buy and sell orders on trading platforms. This indicates the current pressure of buyers or sellers in the market. Of course, it should not be considered as an indicator for technical analysis. First of all, it allows you to judge the liquidity of the asset.
Thus, the Gecko site and the Paprika site are fairly homogeneous. The main difference is in the method of liquidity analysis and in the technical document provided by the second one.

CryptoSlate is an English news resourse that publishes content mainly about crypto assets. It also offers podcasts on his daily Crypto show. It can be assumed that its main activity is not focused on the translation of market prices, so it does not have the status of an expert in the activity under consideration. On the contrary, it is one of the most complete sites. It is primarily focused on data. The information provided is technical in nature (for beginners). So to access it, you must go to the part dedicated to lessons in the corner section.
Understanding data on CryptoSlate is rather intended for people who have a basic knowledge of crypt. Due to the large amount of information, the resource may cause confusion for beginners. So, what can we get in the form of relevant data about it?
First of all, you will find the market capitalization, Bitcoin dominance, or the number of coins registered on the site. Nothing special compared to the previous two sites. What makes CryptoSlate different and especially interesting is the indicators displayed.
First, there are filters that you can use to classify tokens. Among them is one that is designed to list all corners of privacy. You can learn about private currency projects in addition to Monero and Zcash. In addition, you can get all the available stablecoins, or even make a list of cryptocurrencies according to their form of consensus, namely: PoS, PoW, dPoS and masternodes. The range offered can be very effective if you only have the basics and want to improve your knowledge.
Second, one of the metrics that you probably won't find anywhere else is metrics related to the crypto asset project industries. Thus, it allows you to classify tokens by industry. Most service tokens can be found here in areas such as AI, art, or even agriculture, among many others.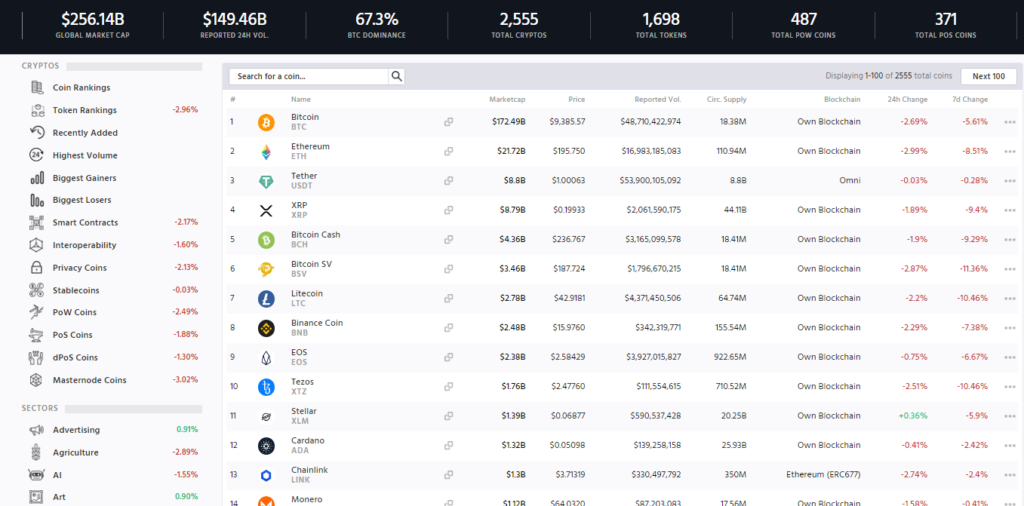 There is also a lot of information available here. On the one hand, you can read a summary of the purpose of a digital asset, as is usually the case. But first of all, you have its technical data. In this case, you can see the type of consensus, the average block verification time, or even the type of block chain used.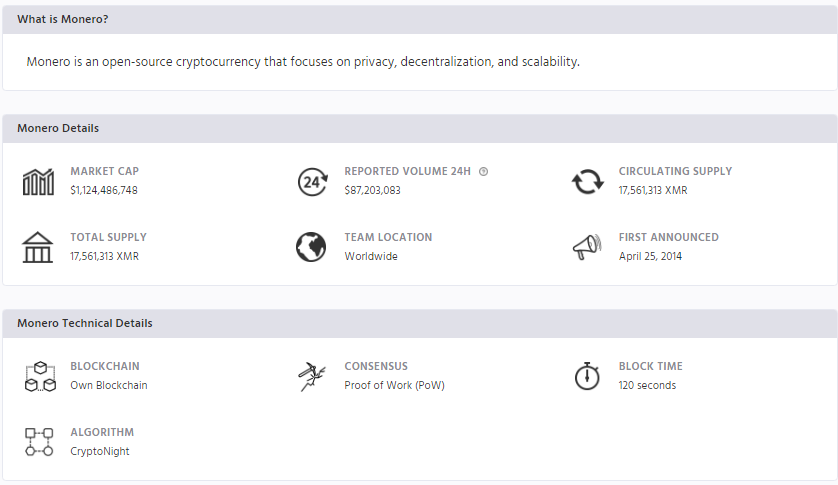 CryptoSlate really stands out for the completeness of its content. However, this is not recommended for beginners. The suggested metrics can help a novice get lost. Please also note that the resource is only available in English. However, the interface developed for courses is universal. You can speak English fluently enough to understand it, but you will need some basic knowledge of cryptocurrencies.
Nomics is located on the border between CoinGecko (or Coinpaprika) and CryptoSlate. First, because even if it remains relatively affordable, it only offers a few currencies (4 in total). Therefore, its offer is limited on these points. Even though it doesn't have the quality of CryptoSlate data, it is still more interesting than other sites.
Nomics differs mainly in the quality of the interface. In addition, let's also highlight the statistical section proposed for each asset. For example, if you take Bitcoin, you will find the number of coins in circulation, the date of its highest level( ATH), the days that have passed since then, and so on. But there are also BTC exchange volumes on platforms (Huobi, Okex, Binance…).
It also analyzes the fiat currency most frequently used by buyers. Moreover, if you are interested, you can follow its price prediction model. It is obvious that you should not rely on it when conducting trading operations, it remains a relatively definite indicator.
Another interesting fact is that you can find a list of all the dead coins. In other words, all abandoned projects that no longer exist.

Conclusion
You can get to CoinMarketCap or change it. It is true that sometimes such changes can be a particularly serious obstacle for people. However, the belief in the community of crypto enthusiasts makes you think that the platforms we have presented to you will help you navigate the crypto space. We hope that we have managed to provide you with enough alternatives that meet your expectations.