Currencies in the crypto market are subject to crazy volatility, both scaring and attracting investors. But to achieve successful results in crypto trading, you need to be able to anticipate the future price movement of a crypto asset.
Analytical analysis of the price movement of Stellar
Stellar was created in 2014 as the brainchild of Jed McCaleb. McCaleb is also one of the founding fathers of Ripple, and debate continues over whether Stellar is a fork of Ripple. However, the founder himself refuted this dispute, saying that the coins are very different. The main difference between these two cryptocurrencies is that while Ripple is mainly focused on financial institutions, Stellar is more focused on ordinary people, and strives for financial accessibility.
Stellar intends to fill the cracks between cryptocurrency and the financial universes. Since then, Stellar has started a series of collaborations with several big names in the fintech world. These organizations include IBM, Stripe, and Deloitte, as well as some other large organizations on different continents.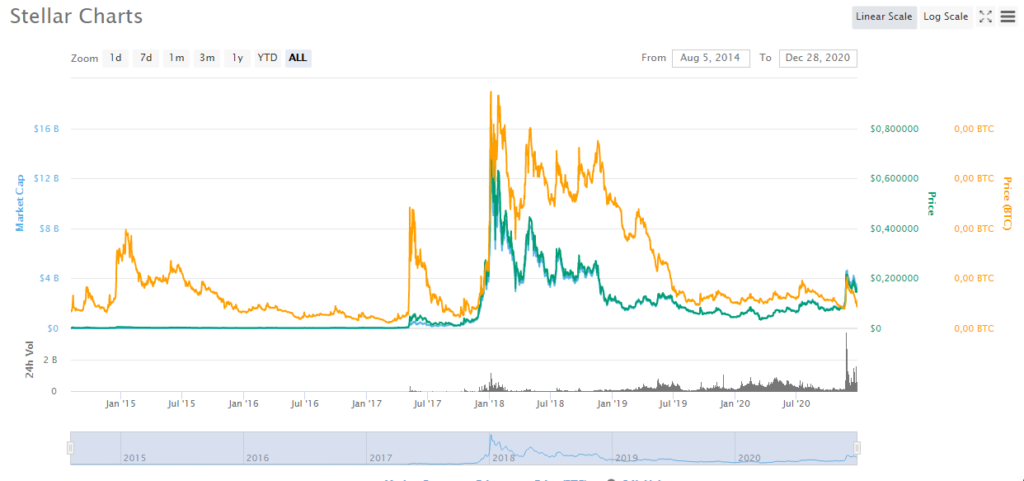 XLM price movements for all time
Stellar quickly became one of the major players in the cryptocurrency market. Naturally, investors, both existing and new, are very eager to learn what drives Stellar prices, as this answer holds the secrets of good investment practice.
Stellar prices are affected by the following factors:
Public influence
Competing Coins
Acceptance
What causes interest in Stellar
Stellar can be considered a faster and more versatile cousin of Bitcoin, which does not require mining. Coins can be exchanged anywhere in the world in just three to five seconds. This makes the altcoin ideal for overseas transactions. Around the world, modest and fast transactions via mobile phones can be especially valuable if someone is in a secluded place without access to banks. And even if banks are available, overseas transactions can cost a lot of money, but with Stellar it will only cost a penny. The cost of an international transaction is about 0.00001 XLM, which is only one cent. This has also led to speculation that Stellar may well displace Western Union and other similar companies in the near future.
Stellar has an integrated exchange where major altcoins such as Ethereum can be traded, and the platform is particularly advantageous for exchanging Lumens for currencies for further transactions.
A unique inflation mechanism has been incorporated into the Stellar network. Through this mechanism, the Stellar Lumen supply will grow at a rate of 1% each year with an initial supply of one hundred billion altcoins. Now the altcoin has a fixed supply of fifty billion coins. Of the total supply, twenty billion are bought, exchanged and used in the market, while the Fund has directed the remainder to the promotion and development of the network.
Jed McCaleb is one of the founding fathers of Ripple, as well as Mt. Gox McCaleb was kicked off the board of Ripple due to a not-so-stellar reputation, after the Mt hack. Gox Although Jed McCaleb did not have a good reputation in the industry, shortly after he left Ripple Labs, he received a $ 3 million investment from the Irish firm for Stellar. Today, Stellar ranks 12th among the largest cryptocurrencies.
What makes Stellar (XLM) different from others
While Bitcoin takes 8 to 10 minutes to process a single transaction, Stellar can process about 1,000 transactions in just one second, and that's also at face value. The nominal board is usually designed to protect the platform from attacks.
The transaction processing protocol is a distinctive feature of the project. Unlike mainstream cryptocurrencies, XLM has a unique protocol called the Stellar Consensus Protocol (SCP), instead of the usual Proof of Work or Proof of Stake. SCP does not require miners, and transactions can be processed quickly and securely. However, the downside of the protocol is that without miners, it is considered partially decentralized. Tokens must be purchased on the exchange.
The partnership with IBM has really attracted the attention of many investors to the project, as both IBM and Stellar set ambitious goals. Together, they strive to provide access to financial services in very remote regions of the world. Moreover, they are building the financial infrastructure, and have truly taken on the mission of making financial services accessible to all. Currently, Stellar and IBM are targeting the South Pacific region, which ranges from large economies like Australia to remote regions like Vanuatu.
The biggest concern of investors about Stellar is the team. Although the team includes various managers and experts, it is small. Co-founder Jed McCaleb's reputation is also a major concern. Throughout his life, he was involved in various lawsuits, and, of course, he managed the exchange, which was subjected to the most serious hacking in history. But, in defense, it is worth saying that he does have a lot of achievements under his belt, but critics tend to watch for other achievements.
On the other hand, Stellar is working well and seems to be gaining momentum every day.
Concerns about the team are not equivalent to concerns about the altcoin itself, which so far has a good reputation. Neither the coin nor the platform has been hacked yet (thank God). Although there was a relatively small hack in which $ 400,000 worth of crypto assets were stolen, the hack was possible because of flaws in the wallet, not because of Stellar Lumen. When it comes to the security of the crypto asset itself, one should keep in mind that it is secure enough to use it right now. Stellar is secure enough to be part of IBM's worldwide blockchain operations, so investors have nothing to worry about. In itself, this reality should say a little about the degree of its security, because IBM will never unite with an insecure crypt.
XLM Price Drivers
3 factors affecting the price:
Stellar is a non – profit organization, which is a bit unusual. The organization does not work for a monetary reward. Instead, some of the organizations ' goals include poverty eradication and financial inclusion for bankless individuals. Consequently, social influence plays a huge role in the value of cryptocurrencies. Quite a few people invest in Stellar Lumens because of their social mission and because of the impact they believe the organization has. Stellar, together with IBM, launched a project in the South Pacific to provide financial services, especially in remote islands. Such projects, in which the organization is actively involved, have attracted attention to the cryptocurrency, and in the future, good results can be expected from the prices of Stellar.
The king of cryptocurrencies, Bitcoin, is the market leader. Bitcoin has a huge impact on the cryptocurrency market, and most major cryptocurrencies have a positive correlation with Bitcoin. Any changes in the BTC will necessarily affect the market and, therefore, Stellar.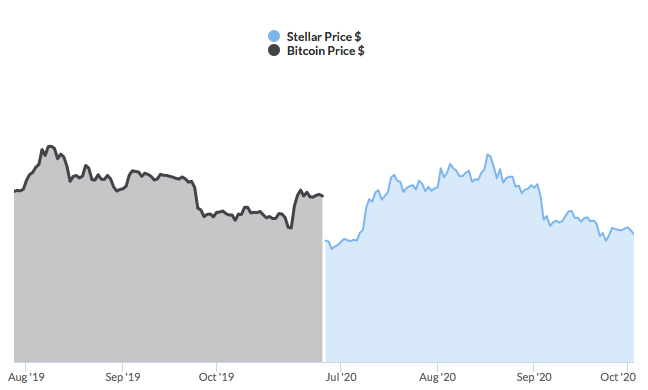 BTC c XLM Correlation
Moreover, due to the ongoing debate that XLM is a hard fork of Ripple (and Stellar is somewhat similar to Ripple), altcoins are perceived as strong competitors. Consequently, changes in Ripple's value may increase or decrease interest in Stellar.
Stellar works very much like platforms like Paypal. Its features make it ideal for micropayments, currency exchange and international transactions. The Stellar organization really aims to become the main platform for digital payments and currency exchange. As the crypto asset spreads, its value will also grow. Increased demand for Stellar will lead to an increase in its value. Based on current forecasts, it looks like the coin is making its way to becoming a digital payment platform, and its distribution will grow exponentially in the near future.
XLM Price Forecasts
Currently, Stellar Lumens costs $ 0.15. During the year, the price of Stellars fluctuated somewhere around $ 0.9. These forecasts suggest that Stellar will start the new year on a positive note and may possibly climb even higher.
Despite the fact that the cost of one token is quite low, the total market capitalization of Stellar is very high, and market sentiment is optimistic, which once again indicates a positive start to the new year.

Price forecast for 2021
Modest forecasts suggest that Stellar Lumens could stabilize at around $ 1 in the new year, while other experts predict that Stellar Lumens could reach the $ 1.5 – $ 2 mark. In general, short-term forecasts point to "bearish" markets, while in the long term you can expect a good rate of return.
Stellar is expected to grow sharply and reach a new historical high in 2023-2025.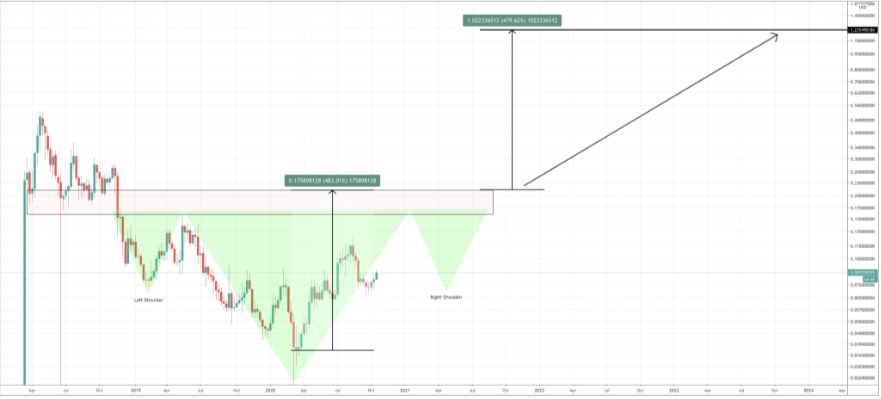 Long-term forecast of the value of XLM
Pros and cons of Stellar
Advantages of investing in XLM:
XLM is lightning fast, secure, and scales well.
The network can process up to 1000 transactions in just a second.
The transaction processing protocol offers reliable transactions that are also executed at lightning speed.
The transaction cost is nominal and ideal for overseas transactions.
Stellar is supported by some large financial corporations.
Disadvantages of investing in XLM:
The Stellar Consensus Protocol does not require mining to process transactions, so the lack of miners has led to a partial decentralization of the project.
The founder, Jed McCaleb, has a bad reputation in the industry, and has been involved in several lawsuits.
Stellar faces high competition, especially from Ripple, which makes it difficult for the coin to grow in popularity, highlighting its advantages.