ETH has set a new all-time high of $ 1,467. 78, and its price has surged as institutional investors are optimistic about the most dominant smart contract platform and the most commonly used blockchain for Dapps and DeFi. But Ethereum now also has a lot of competitors.
In the world of finance, the strongest survive
Ethereum has long been the only large-scale competitor to Bitcoin. For its part, it, while more advanced than Bitcoin, also suffers from some challenges that must be overcome to achieve market dominance. This is exactly what the developers of the Ether hope to achieve by updating the underlying blockchain, which they call Ethereum 2.0.
While the project had the trailblazer advantage, faster and more advanced blockchain projects have emerged to try to take its throne. But let's take it all in order.
Smart contracts platforms now allow anyone to develop programmable finance and apply it to a variety of new use cases. For example, the decentralized finance movement (DeFi), as well as other decentralized applications (dApps), is dominated by Ethereum-based smart contracts.
Dapps are decentralized applications that are activated by smart contracts – self-executing agreements that eliminate the need for a centralized intermediary. Dapps have the potential to cover a variety of use cases, including DeFi, games, social media, and many more.
Over time, Dapps can be co-managed by the community, operate fully in accordance with their code rules, and provide a level of global integration, censorship resistance, and ultimate efficiency that is not possible in traditional web applications.
Because Dapps provide transparency of behavior and usage, they can also automatically share their monetization with product users, usually by issuing their own digital asset that is used to run the most basic application. It's no surprise that the" utility phase " of the crypto economy, when a thousand Dapps can flourish, is such an enticing opportunity.
For Dapps smooth work, they require scalable smart contracts blockchains as the underlying technology platform. Blockchains that support smart contracts provide a high degree of decentralization guarantees, so that they can serve as a " cohesive digital infrastructure that can be relied upon with clear availability guarantees to maintain a consistent and truthful view of critical data, as described by one expert.
This is the market that Ethereum and other smart contract blockchains are targeting. In fact, they are platforms for developers, selling their technology stack and their level of decentralization (guarantees of economic security) to Dapp developers. In turn, as more Dapps are combined with a particular platform, more economic activity passes through the base layer, helping to set asset prices and transaction fees through protocol operations, providing higher security guarantees.
Just as the mobile OS works as a common operating layer combined with iOS and Android, there are currently similar network effects in crypto protocols, where leading platforms can generate critical mass and network effects leading to further growth.
Unsurprisingly, there is strong competition between blockchains that support smart contracts, and a number of new entrants are ready to participate in the market.
According to Defi Pulse, more than $ 27 billion worth of funds are currently blocked in DeFi. Ethereum is the most common platform for smart contracts and the most popular blockchain application for developers and projects on which to create and run Dapps.
While the dominance of Ether in DeFi cannot be denied, the ecosystems of competing smart contract platforms, which at one point were dubbed the "Ethereum killers," are also seeing a significant increase in value.
According to CoinMarketRate, blockchains such as Cardano and Polkadot have recorded price increases of 104.88% and 99.85%, respectively, since the beginning of the year. These are also not the only blockchain platforms to see significant value growth, as the decentralized financial space continues to move in tandem with the rapidly evolving cryptocurrency ecosystem.
There are many potential competitors to Ethereum: Tron (TRX), Tezos (XTZ), NEO (NEO), Vechain (VET), NEAR, but below we will consider only two Cardano (ADA) and Polkadot (DOT).
A lot has happened behind the scenes of Cardano over the past year. Its ecosystem is still evolving, as can be seen from the recently introduced Proof-of-Stake (PoS). The community remains very loyal to this project. The price of ADA has risen by more than 300% and was once nicknamed the "abhf killer", although the two blockchains are moving in slightly different directions.
Cardano launched its Shelley network in 2020 as part of the development of the PoS blockchain protocol.
Although functional smart contracts have not yet been launched on the Cardano blockchain, the release of Shelley was still an important achievement for the project, and caused more positive sentiment towards the ADA token.
In March, the project should pass the Goguen update, which should include the release of functional smart contracts. When smart contracts work, large-scale decenter. fin. protocols and other applications will be able to run on top of Cardano
Researchers have confirmed the integration of Goguen's smart contract updates in a report:
"As of December 2020, functional smart contracts cannot be deployed on the blockchain platform. As part of the roadmap, this will be rolled out as part of the Goguen update. Following Goguen, the Basho era focuses on optimizing scalability and compatibility, and the Voltaire era introduces a treasury system to address governance issues."
According to CoinMarketRate, the price of Cardano also increased by about 104% in 2021 alone. Its own token, ADA, has overtaken many crypto assets, and has become the ninth largest cryptocurrency by market capitalization. The token is currently trading at $ 0.35.
Polkadot is considered one of the brightest competitors of the Ether. The project was launched by the Web3 Foundation with the goal of enabling interaction between blockchains to ensure a decentralized Internet of the future.
Polkadot is considered a next-generation blockchain and connects private and public networks via a multi-chain protocol, using what it calls "parachains", allowing other blockchains to connect as side chains.
The Ethereum network is often criticized as struggling with scalability and speed issues that its community believes will be completely eliminated after the completion of ETH 2.0. However, the Polkadot protocol attracts attention, as it is currently already capable of processing thousands of transactions per second, which in the eyes of some commentators directly contrasted it with Ethereum.
The Polkadot (DOT) token has seen an incredible 99.85% increase this year and is currently trading at $ 18.13.
Can these crypto projects "kill" Ethereum?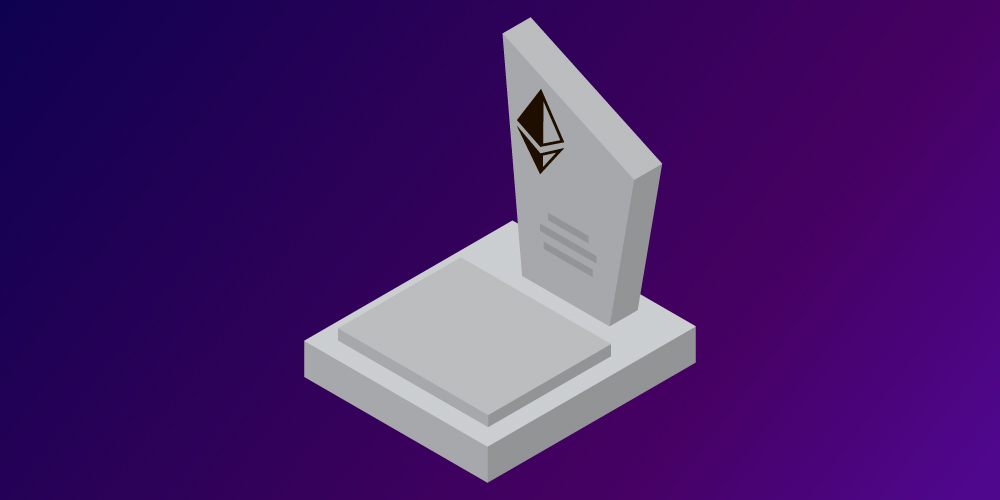 Decentralized finance and Dapps are the market that Ethereum and other smart contract blockchains are targeting. In its current state, the DeFi space is inextricably linked to Ethereum, with the vast majority of the largest DeFi protocols running on its blockchain.
At this point, it seems unlikely that Ethereum will be dethroned in the short term. It has a very solid and clear first-mover advantage over its competitors. Ethereum not only dominates in terms of network cost, but also outperforms competitors in several key factors.
In short, these are the following factors:
number of active users;
The ERC-20 token is the most common standard for newly issued crypto assets;
third-party adoption for service and infrastructure;
general network security.
Based on this, we can safely say that Ethereum is the dominant in this industry, but nothing stands still.