If you think that entering the crypto space is easy, then you are deeply mistaken. That's why you need to go a certain way to have the right information to develop a strategy and see the return on your investment.
Top tips for new investors
The conquest of crypto can be difficult for a beginner. In fact, this space is risky for everyone, both for beginners and experienced investors. Unlike stock trading, there is no Central authority in the crypto sphere that advises investors and protects them in every possible way. You see, the Internet is dominated by horror stories, hype, and rumors, and sometimes it's hard to separate facts from rumors. And building a strategy based on rumors is a direct path to failure in the business with crypto.
You know, most of the investors who lost money didn't do proper research. As with any other investment venture, you need to know all the facts before you start anything.
Research
Crypto asset trading has been around for a decade, and a lot has changed since its introduction. If you are just starting out and don't want to fail from the beginning, you need to do your homework yourself. Understanding what you are getting into will help you make informed investment decisions. Cryptocurrencies offer great investment opportunities, but they are not without risks. Ignore the hype and dig deeper. Learn about the underlying blockchain technology and how the entire system works.
The ability to read cryptocurrency charts is an important skill for anyone who is interested in a successful crypto trade. At first glance, graphs may seem like a foreign language. All the intricate lines, shapes, and colors can seem very intimidating to beginners. In addition, learning technical analysis requires you to start learning the jargon associated with crypto (we'll talk about this later).
Fortunately, cryptocurrency trading is very similar to stock trading. In fact, the only real difference is the asset. Both assets use the same fundamentals. You can learn from some of the greatest stock traders in the world and you will get an amazing advantage in the market.
Remember that trading is not about being different. This is about understanding the psychology of the market. In other words, you don't need to reinvent the wheel. At first, you will be more successful if you follow the path of experienced traders who have practiced this skill for years. The good news is that once you understand how to trade crypto, you will be able to trade a huge number of asset classes.
The first step on your way to becoming the best crypto trader is to learn the basics of trading. You will need to familiarize yourself with the key theories and terminology that are used today. You will also want to have a clear understanding of the different types of charts and pattern recognition.
Fortunately, from the point of view of trading, the history of the market tends to repeat itself. Therefore, the analysis allows you to recognize these trends and use them to make an informed decision about market movements in the future.
Learn the basics of buying and selling cryptos
Before you run, learn to walk. You need to understand the basic mechanics of trading crypto assets. Learn how to sell and buy coins, as well as the simplest and safest platforms. There are many good places for new investors with an intuitive interface and the ability to start buying Bitcoin and other major cryptocurrencies such as Litecoin, Ethereum, and Bitcoin Cash.
As with all other financial investments, it is important to learn how to protect your assets. In this case, you need to protect your digital assets from fraudsters and cyber attacks. To do this, you need a reliable crypto wallet. Ledger Nano S, which is considered to be the most secure bitcoin wallet, is perfect. Trezor is also a good option.
Small steps
After a few weeks of deep research, you may feel that you know almost everything about crypto trading. Well, you may know a lot, but that doesn't mean you should invest blindly. Risk is inherent in all investments, and the same is true with crypto trading. The digital currency is still developing, and we need to proceed carefully. The risks involved are incredibly high, which means that you can either win or lose all your investments.
Invest small amounts first and see what happens before you increase your investment. Don't chase Bitcoin: it may be too expensive, and there are many other coins out there.
Diversification
Putting eggs in one basket is a serious mistake. Well, at least when it comes to investment. In addition to Bitcoin, there are other crypto assets in the crypto space that you can invest in. Effectively diversify your investments. You can invest in Litecoin, Ether, Bitcoin Cash, and Ripple.
Investment strategy
Let's get something straight. It is well known that the digital currency market is incredibly volatile, so you will need strategies to manage price fluctuations and make a profit on your investment.
Before you invest in anything, you need to clearly understand what your investment goals are and how you will achieve them. You should have a clear idea of how long you are willing to keep your investment open and how much profit you are willing to make.
You should have the same mindset when it comes to investing in cryptocurrency. Before you decide which cryptocurrency to invest in, let's discuss the two main types of investment strategies for cryptocurrencies.
Long-term investment strategy
Long – term investments are investments where you expect the crypt to perform better over a longer period of time. Usually, the minimum term for long-term investment is from 6 months to 1 year, although some people plan to hold their investments for 5-10 years or more. You can choose how you choose to invest: you can make all your investments at one time, or at different times.
Once again, before investing any amount, you should have a clear idea of your investment goals:
Will you sell the cryptocurrency after a certain time, or will you sell it when it reaches a certain price?
Will you sell your investment immediately or sell it in parts at different times?
In which case would you sell a long-term investment in the short term? For example, if new laws come into force that may affect the long-term price of your investment, you may want to consider selling it sooner.
Then you should do a little research to decide which cryptocurrencies are best suited for a long-term strategy. I recommend that you check the following:
Are their technologies better than their competitors?
Is there a strong team of founders and developers behind the project?
How good is their roadmap?
Do they solve any real problems?
If you really believe in the cryptocurrency you are investing in, you should learn to hold on to your investment even when prices are falling. If you "panic sell", you may lose money and regret the sale.
Reasons for long-term investment
Long-term investment makes your life easier, as you don't need to constantly monitor the market;
Your research has shown that some cryptocurrencies will bring big profits in the long run;
You truly believe in the future of cryptocurrency.
These are the key points to consider.
Short-term investment strategy
Short-term investments are made for shorter periods of time in the hope of making a quick profit. So, how long are short-term investments?
They can take seconds, minutes, days, or even months.
How to operate short-term investments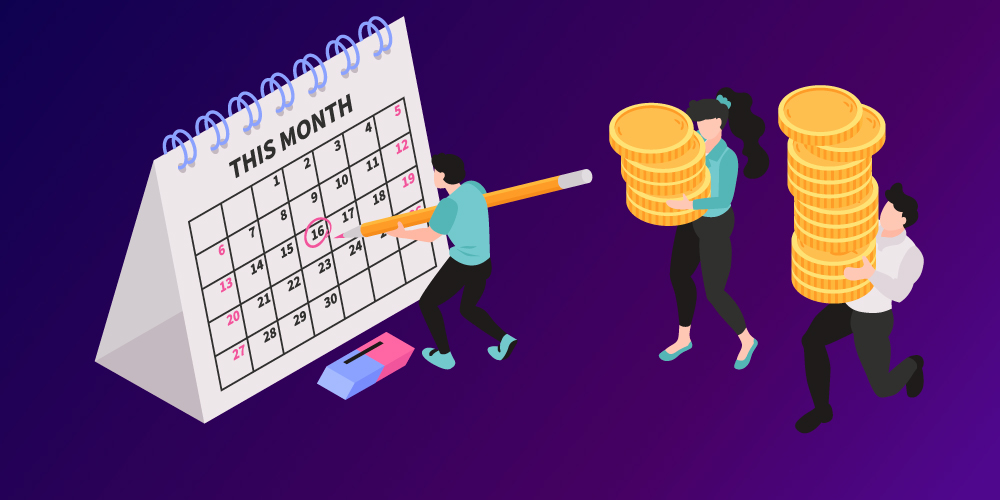 As with long-term investing, you should have clear goals for your investment. You have to ask yourself:
How much profit do you expect to make? This will give you an idea of the price at which you should buy / sell cryptocurrency.
What loss will you accept? This will help you control your losses if the price of a cryptocurrency suddenly drops.
Do you have time to study and follow the cryptocurrency market and news?
Can you conduct a technical analysis of the crypto market? If not, you should learn about it before investing.
Will your short-term strategy generate more revenue than your long-term strategy?
You need to find out which cryptocurrency is best to invest in in the short term this year and in 2021.
Although cryptocurrencies such as Bitcoin and Ethereum can also be traded in the short term, you should consider investing in new cryptocurrencies. In the past, investors have made huge profits through short-term investments in crypto assets such as NEO, Stellar, IOTA, and NEM.
The main advantage of short – term investments is that you can earn a lot of money in a short period of time-they quickly enriched a lot of people. However, they still have their drawbacks:
They take a lot of time and effort, as you need to constantly monitor market prices;
This is a more risky investment, which can lead to large losses due to how much the price will change in a short time;
It can be very stressful and emotional.
Conclusion
It is difficult to say which of the two investment strategies is better. It all depends on your goals and experience in the cryptocurrency market. In any case, you should not start if you are unsure of the coin or yourself.
If you really believe in the project, I recommend investing money in the long term. However, if the project is new and attracts a lot of attention, short-term trading may be the best option. Take, for example, DeFi projects that have enriched many traders in the short term, and that have not for a moment regretted their choice.
The main thing is that you have the desire, and of course the initial capital, and everything else will be attached.